GTC AGM held at ARRI GB HQ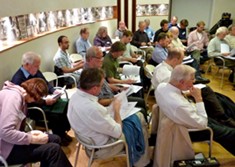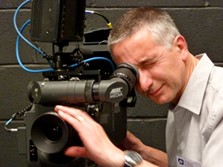 The 38th AGM of the GTC took place at ARRI GB on Thursday 20 May. We had a virtually full house, thanks in part to the excellent presentation earlier by ARRI Media's digital guru, Bill Lovell. But the fact that nearly everyone stayed on after the workshop and then excellent nibbles, does suggest that members take an interest in the running of their Guild.
Those present were able to meet with our new President for Life, Dick Hibberd. Dick (as No 001) was the founding member of the GTC, and had some interesting remarks to make about the continuing lack of proper credits for cameramen on multi-camera shoots at the BBC. His determination is quite something and one can't help thinking that he's going to win, come what may!
There were some important discussions and comment from members. This was useful, as it means the new Council can go away with some good, positive ideas.
After many years of the GTC's existence, one member questioned the legal standing of the GTC; he felt that this has been fine for many years, but with changing conditions, we should be examining alternative ways of existence.
This will, one suspects, be very high on the list of business to be dealt with by the incoming Council, as indeed is the move to update the Constitution.
The new Council will be welcoming two new members to its ranks, Dan Mulligan and Darren Bramley, and more members have expressed the desire to come forward.
From the discussions and Council Officers' reports, together with the Financial Report, it became evident that the GTC is in a very strong position. Members had the chance not only to meet with Council members, but to get some idea of all the work that goes on behind the scenes.