ARRI 65 launches in Los Angeles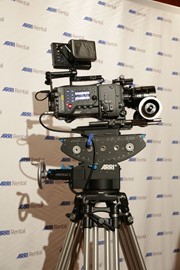 ARRI Rental's ALEXA 65 camera system was officially launched earlier this month in front of a packed audience at the Linwood Dunn Theater in Los Angeles.
Attended by ASC members and key Hollywood figures, the launch event came just 11 months after proof of concept allowed the ALEXA 65 project to be green-lit in January. The system, comprising camera, lenses and a complete image workflow, will be available to productions from January 2015. Significant interest has already been shown by cinematographers attached to high-profile feature films.
Harking back to the golden age of 65mm widescreen filmmaking, the ALEXA 65 camera is a scaled-up version of the ALEXA XT, equipped with a sensor slightly larger than a 5-perf 65 mm film frame that is able to capture an uncompressed ARRIRAW 65 mm image of staggering intensity and definition.
ARRI Managing Director Franz Kraus comments, "Following the success of the ALEXA we wanted to build a camera for the most demanding applications in filmmaking and envisioned a true 65 mm format camera, sharing as many of the technology and imaging attributes of ALEXA as possible. The dynamic range and colorimetry are retained, but to these is added a far greater capacity for capturing fine detail. Our goal was simple – to meet and surpass the image quality of 65 mm film."
Collaborations with key technology partners IB/E Optics and Codex have allowed the ALEXA 65 system to offer a complete large-format solution for high-end theatrical motion pictures, incorporating custom-designed prime and zoom lenses, and fast, efficient workflow tools.