ARRI lights win iF design award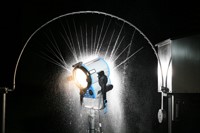 ARRI's newest lighting products, the TRUE BLUE line of studio and tungsten fixtures have been awarded the International Forum (iF) Design Award, a very prestigious design honour. Introduced earlier this year, the TRUE BLUEs use advanced technology and were developed using extensive feedback from lighting professionals resulting in highly innovative lampheads with more than 30 improvements. This evolution in lighting fixtures has been recognised by iF, an independent organisation whose remit is to examine the success of design services in an economic context and promote public awareness on the importance of design.
Over 1000 companies from 39 countries entered 2808 products for the coveted iF design award this year. The competition is open to manufacturers and designers of mass-produced products that have been on the market for three years or less, or are scheduled to go into mass production during the year of competition. The iF jury evaluated the many entries for the following: design quality, workmanship, choice of material, innovativeness, environmental compatibility, functionality, ergonomics, visualization of use, safety, branding and universal design.
TRUE BLUE fixtures have quickly gained recognition for employing ARRI's new, patented, cross cooling system to reduce lamp housing temperature by 25% and the lens temperature by 17% while offering maximum light output.
Lighting sales manager, Martin Carnell, comments, "We are very pleased that our new TRUE BLUE range has been recognised with this prestigious award. Many of the design innovations in the product line-up have been implemented as a result of valuable feedback from customers in the film and television industry around the globe. The TRUE BLUE range redefines the standard for professional tungsten lighting in terms of functionality, reliability and value."
The upcoming awards ceremony will take place on
3 March, 2009 in Hanover, Germany.
About the ARRI Group:
Located in Munich, Germany, Arnold and Richter Cine Technik (A&R) was founded in 1917 and is the largest manufacturer of professional motion picture equipment in the world. In 2001, ARRI was restructured and converted into a closely-held corporation. The company is involved in all aspects of the film industry: engineering, design, manufacturing, production, visual effects, post-production, equipment rental and laboratory services (film and sound). Manufactured products and technologies include camera systems for 16mm, 35mm, 65mm film, high-definition video, location and studio lighting fixtures, digital imaging systems like the ARRISCAN, ARRILASER and ARRICUBE. These products and services are offered through a network of subsidiary companies, agents and representatives worldwide.
For more information, visit: www.arri.com