Barry Bassett celebrates 25 years with VMI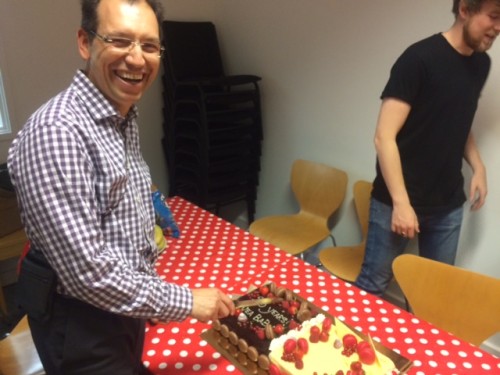 GTC sponsors VMI recently celebrated 25 years of current Managing Director, Barry Bassett, being part of the firm.
At first Barry concentrated on developing the rental side of the business after leaving Keele University in 1987 with a degree in Maths, and camera rental is now very much the focus of the firm.
"When we started, camera rental was very much an incidental activity of the firm, as the company mainly engaged in reselling used professional video equipment," Barry explains.
Later, in 1996, Barry completed an MBA in Business at Imperial College, specialising in Finance, after a 3-year part-time course, before becoming Managing Director of VMI in 1996.
Next the firm developed post-production and, in the late 90s, ran a fleet of 20 online AVIDs for hire, while a post-production company in Shepherds Bush (now
West Digital
), supplied all the crew to Granada's
60 Minutes
with Trevor Mcdonald.
In the early 2000s, VMI developed a multi-camera music production business, becoming a UK agent for Alfacam, supplying up to 20 camera OBs for large music events including Robbie Williams.
The company was an early adopter of HD cameras and ran a fleet of 10 x Sony HDW-750 HDCAM camcorders at the very start of the HD era, also opening a 19-seat HD Screening Room in its new D'Arblay Street facility and running courses on Cinematography. VMI began to make a name for itself as an HD specialist.
Later in the 2000s, a major setback occurred through a £1/2 million uninsured loss, the result of a disputed insurance claim for a burglary but, undeterred, Barry, aided by Kevin Oaten, a new director of the firm, made a fresh start and VMI was able to become the first supplier of the new Alexa camera in 2010.
The firm has gone through many ups and downs, and moved into its existing flagship HQ in 2011 where it remains today, renting high-end production equipment to many high-profile documentaries and dramas, including Midsomer Murders, Our Girl, Cilla, Secret Lives of Students, Teens and Bad Education.