Dedolight Award-winning LED kits now available for rent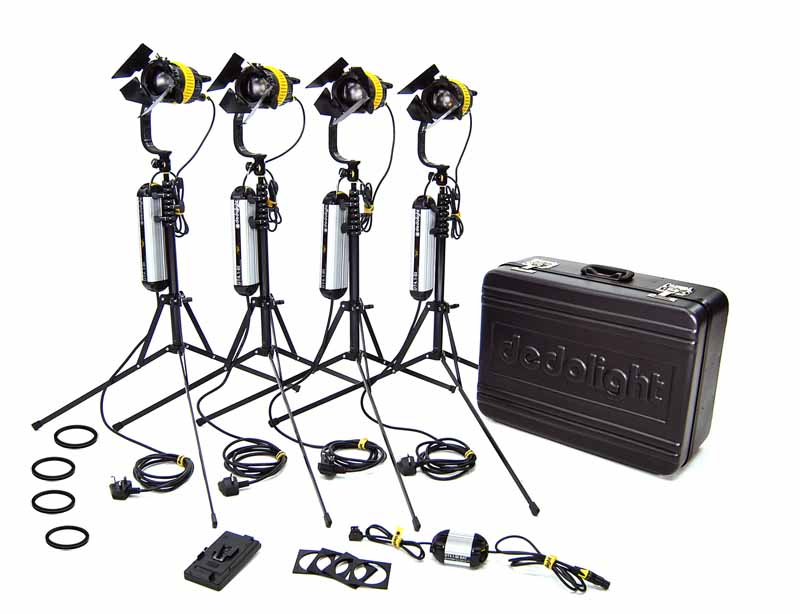 GTC sponsors Cirro Lite are pleased to announce – after a delay of almost a year due to demand in sales – the first new DLED rental kits. These will now be available from their rental department as well as all main rental companies.
The New LED 40W units offer great optical performance and control, as expected from a Dedolight, but also have the added ability to dim without any colour shift, as well as to tune the colour on bi-colour versions.
The DLED lighting system addresses many of the challenges when shooting with the new digital cameras in a busy environment – not only does it provide great optical control, it also provides a new level of dimming control. This allows small adjustments on the fly and effects and highlights to be added with the projector system.
Main features
Bi Colour, Daylight and Tungsten version
Fine control dimming without colour shift
Colour Correct – with even colour distribution
Clean beam (no stray light outside the beam, no hotspots)
Double Aspheric Optical system
Unprecedented Focusing range (Wider/tighter)
Highly efficient
Projection attachments for effects
12V ballasts available with V-Loc Battery adaptors if required
Rental kits come in both Bi Colour and Daylight versions, and rental kits are similar in content to the standard 150W dimmer kits available as standard from most rental lighting companies
For more information, demonstration and availability please contact Cirro Lite:
Email: info@cirrolite.com
Website: www.cirrolite.com
Tel: 020 8955 6700