GTC certificate presented to Nick Dance DOP of Skins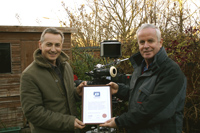 Director of Photography Nick Dance and his camera team have been presented with a coveted GTC Awards nomination certificate on location in Bristol where they have been shooting the third series of Skins, the popular Channel 4 teen drama made by Company Pictures.
The camerawork on Skins Series II (Episode 3) was one of several shortlisted programmes in this year's very strong drama category at the 2008 GTC Awards which were presented at the BFI Southbank in October. Nick was unable to attend the ceremony but was delighted to receive his nomination certificate from GTC Council member Martin Hammond.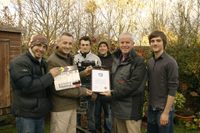 The drama category was won by Nick Beeks-Sanders for his camera operation on Lark Rise to Candleford.
Don't forget to make a note of any programmes you see which display excellent camerawork, noting the camera credits and transmission details, as we will be launching our new Awards nomination form on this site early in the New Year.
This year we received a particularly strong batch of nominations leading to a very encouraging celebration of great camerawork in October. The GTC Awards 2009 will also be presented at the BFI in October at what promises to be an even bigger and better event – more details throughout the year as the plans for the day evolve.