GTC Chairman Keith Massey pays tribute to Sky cameraman Mick Deane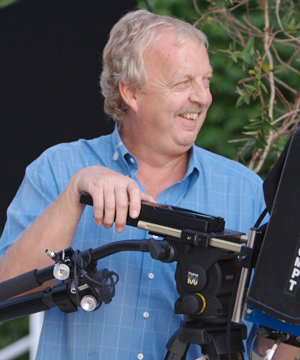 I'd just like to pay tribute to one of our own... Mick Deane, the Sky cameraman who was tragically killed in Cairo two weeks ago and whose funeral was held this week at the London Film Museum at County Hall in Westminster.
I watched the service which was privately streamed over the internet and there were wonderful tributes by family, friends and colleagues to this very special cameraman who was obviously well respected and loved by all who knew and worked with him at CNN, ITN and Sky.
Sky's Jeremy Thompson led the glowing tributes as he had worked with Mick over several decades - starting at ITN and then being responsible for introducing him to Sky. Jeremy said: "He was a true warrior of television news. A big man in every way. A rock for all those around us. The heart of every team, the man we all wanted to work with. What a joy to find you were going on a trip with Mick. Sage, sane, humble and full of wicked wit and wonderful wisdom.
He could film, edit, and he could write a story better than most of us so called 'talent', I promise you. A really great human being and everybody's hurting at the loss of Mick. Mick's death is a brutal reminder that it's becoming ever more dangerous to report the news from the world's trouble spots.
And it's the cameramen and women, the engineers, the producers, who are the real unsung heroes of our industry. Us fancy dames get to stand in front of the camera and claim all the glory... but they do all the work, trust me!
When we were all talking about Mick in the newsroom the other day, some of us were surprised to hear a colleague admitting that they'd never met a cameraman. Well, it's high time we put that right, isn't it? Make it your mission to meet a cameraman! They won't bite. You don't have to hug 'em or take them home - but you do have to appreciate that without men like Mick there would be no such thing as television news."
After Jeremy, Mick's life-long friend, Rick Wiseman spoke about their youth, followed by Richard Roth from CNN who worked with him in Rome; Mark Austin from ITN who started out with him in Hong Kong; Ian Wood from Sky who worked in Washington; Geoff Martino a Sky cameraman based in Washington; Andrew Wilson, another Sky correspondent, and ending with Patrick his son who gave a very moving tribute to his dad while trying to cope with his grief.
Video clips from stories that Mick had covered all over the world were shown and formed an amazing collection of significant world events that he had witnessed and captured.
His death at 61 by a faceless killer does not seem a fitting end for someone who did so much for honesty and integrity in our national news outputs and was such a genuinely great guy, much loved by his wife Daniella and two sons Patrick and Ben.
Keith Massey
Chairman of the GTC