GTC Chairman's April message
So what's the most boring shoot you've ever worked on?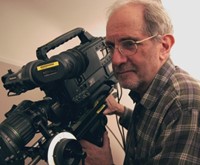 For me, it was probably a one week, very arcane medical conference, for which I was required to frame head and shoulders of every speaker. Just that. No reaction shots, no change of size, just keep them all framed as they went through lists, and lists, and lists of statistics.
And all this without falling asleep behind the camera and ending up with a perfectly framed roof! The highlight of the week was when the sound engineer threatened to insert a Sennheiser e815 into part of the director's anatomy if he ever tried blowing on the microphone again; so you get the picture of what kind of shoot it was…
'Ah!' I hear you say, 'I can beat that. The GTC Annual General Meeting.'
Not fair! OK, so we have to read out reports. We have to present the accounts. We have to pass resolutions to adopt the reports and accounts. And I agree, it can seem a bit dry – but it has to be done.
But boring? Well hardly. First, there's the chance to see some of the latest equipment from ARRI, hot from NAB. Or more accurately, cool from NAB, as it includes the very latest developments in LED lighting. It's always great to get your hands on all this new technology. For full details of all the products ARRI will have on display click here.
Then there's the chance to meet with old and new friends, swap tales, and maybe even slag off the odd production company (well, why not?)
And of course, there's the AGM itself. Importantly, this gives you the chance to air your own views on how we've done over the past year. How can we improve the Guild? What else should we be offering members? How can we best support television camera crews?
Finally, there will be some delicious bites and drinks; it could well turn out to be a
very pleasant evening.
And don't forget our Annual Awards. I recently treated myself to an HDTV set and Freesat and I have to say, there is some really great camera work out there. Please do keep those nominations coming in – you can nominate now online at GTC Awards.