Best Regional Documentary filmed by GTC Council Member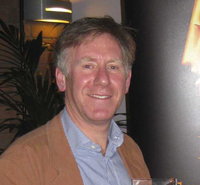 Somerset media company GRACE Productions has picked up a top award at the Royal Television Society's West of England presentation night. Beeching's Tracks with Simon Calder, shot by GTC member John Samuels, was named Best Regional Documentary, against stiff opposition, when the area's television professionals gathered in Bristol Watershed for the Awards evening, on Friday 30 January.
In the BBC West documentary, travel journalist Simon Calder took a journey from Portishead to Minehead exploring the legacy of the Beeching railway cuts and, along the way, examined the arguments for reopening some of the branch lines axed by Dr Richard Beeching in the 1960s.
The film's director Ray Tostevin and producer Margaret Vrublevskis received the award from the RTS chair of judges, Charles Wace. Ray said:
I'm absolutely delighted. This is a great honour for the entire GRACE Production team, who worked so hard to produce a wonderful film – and against such strong competition, too.
The journey began in Portishead, where Calder listened to the frustrations of commuters who have to endure the daily grind into Bristol, before hitching a ride with Lisa Metcalfe as she used her car to reach her work as a marketing officer with the Soil Association in Bristol. The journey would have taken just over half an hour on the 1960s railway service but on the day Simon joined the queues on the Portbury 100 it took more than two hours.
Lisa told Simon:
It's just a nightmare… if they had a rail network from Portishead I would not drive.
Somerset-based GTC Council Member, John Samuels, found it a
pleasure to find himself filming steam trains on the West Somerset Railway near Taunton.
Steam is just so visual," says John "but it was a completenightmare trying to fit in with the railway timetables – the trains would leave whether you had finished filming them or not!