Training place for GTC member to help charity Everest shoot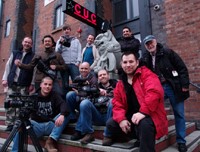 After sifting through a pile of very strong applications from GTC members for the great opportunity of a free place offered by The Film Workshops on the HD Digital Production training course at their brand new Liverpool centre, it was eventually decided to ask Frank Corr to attend on behalf of the GTC.
Frank, who has most recently worked as lighting cameraman on Kirstie & Phil's Property Guide for More4 and Body in Numbers for Discovery USA /Virgin Media is to document (on personal expenses only) a trek to Everest base camp by a number of stroke victims. Although this expedition has the full backing of The Stroke Association Northern Ireland it has limited monetary support and Frank is going to have to put the limited resources to the very best use. He hopes that the comprehensive range of production processes covered within the HD Digital course will enable him to undertake more elements of the production himself thereby offering the charity the very best value.
In his application Frank eloquently expressed his hopes that the course will give him both confidence and increased skills to bring to the challenging project. His desire is that the course "will help me to step out of my comfort zone and take on jobs where I will effectively be directing myself".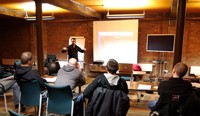 He adds: "I think we as 'cameramen' are increasingly having to compete with production staff who already have the scriptwriting, cinematic storytelling and budgetary skills under their belts. They then go out with Z1s, bringing home the rushes and sitting in on the edit if not actually editing themselves. Diversity seems to be the way to survive in this day and age. This course will give me a better understanding of the whole production process and the knowledge to take on more of the tasks involved."
GTC members will be able to read all about Frank's experiences on the course in the forthcoming edition of GTC InFocus.