Kodak launches DOF app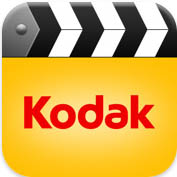 Kodak have introduced a new depth of field calculator and contact application, downloadable free from the iTunes App Store. The second Kodak Cinema Tool to be released by the company this year, the app helps film-makers determine the correct settings for desired focus, and connects them with Kodak around the world at the touch of a button.
"Filmmaking is a global industry, and our objective is to help bring useful mobile tools to the fingertips of filmmakers regardless of where and when they are shooting," says Nicole Phillips, Kodak's director of web marketing for the Entertainment Imaging Division. "This app is designed to provide quick, accurate information, and to help connect us to our customers, so we can provide the products and services the creative community needs to get their projects completed."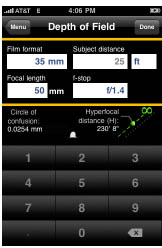 The KODAK depth of field calculator app has fields for entering known data – such as film format, F-stop, focal length and subject distance – and then computes the near limit, far limit, hyperfocal distance and circle of confusion. Results can be in feet or meters, and calculations can be made for any combination of remaining variables.

The application also includes a KODAK Contact tool for instant access to a nearby Kodak office for product supplies, or to reach a Kodak representative to answer any pre-production, production or post questions.

You can follow Kodak on Facebook: http://www.facebook.com/KodakMotionPictureFilm