MSE introduce GTC member Bill Kerrigan's 'KerriKart'
Matthews Studio Equipment is to reveal the KerriKart at NAB 2015. This unique cart, designed by Montreal-based GTC member, Director of Photography Bill Kerrigan, incorporates a traditional cart support with the capacity to add a slider.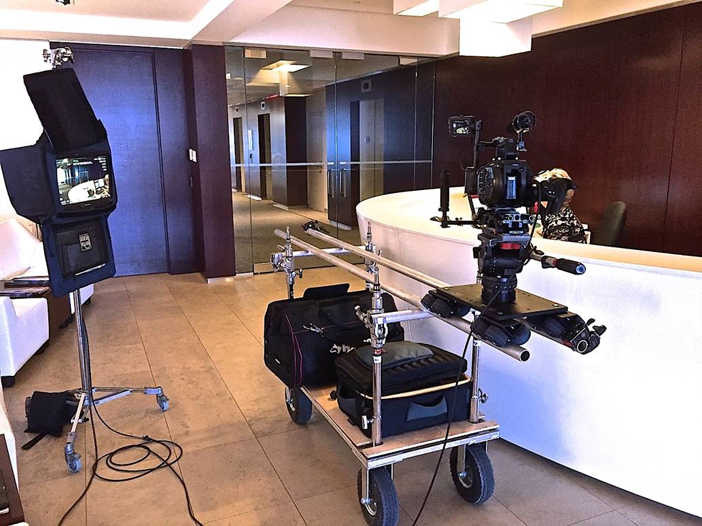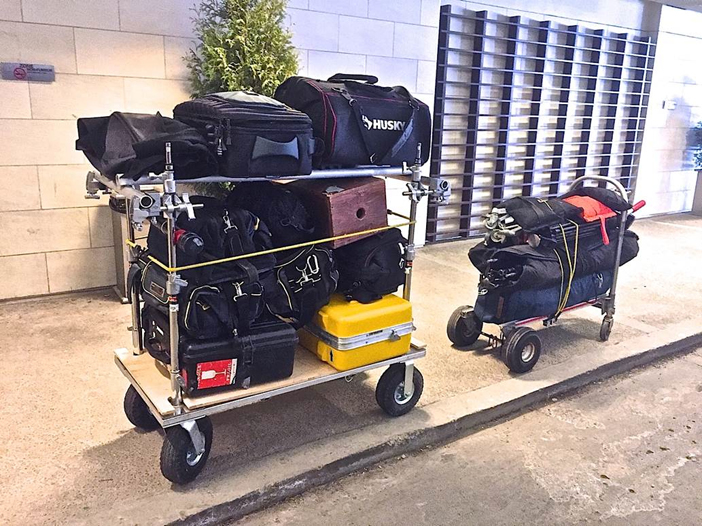 "I'd been using the same industry standard equipment dolly for many years, but when I added a slider to my kit, I needed a second cart to transport two sizes of C-stands, sand bags and slider equipment," explains Bill. "I wanted something simpler, which required less gear and just one cart. The answer was to design a dolly, which would combine a cart and slider together."
The new cart fits MSE's high-quality standards and more. "When Bill brought us his cart design, we were excited to become involved with the new product," says Robert Kulesh, Vice President of Sales and Marketing for MSE. "As with all MSE equipment, the KerriKart is strong, tough and durable but it is also light enough for one person to lift. It breaks down and sets up in less than five minutes. Due to the pneumatic tires, it is easily maneuverable and takes on all kinds of rough terrain and natural elements with ease."
Speaking about the R&D stage Bill explains: "I gathered information and advice from over 10 different forums... But no other camera forum has the same depth of knowledge, sophistication and generosity as the GTC's."
Built-in slider support
The really distinctive feature of the KerriKart is its slider facility. The rails/shelf can be used from ground level to over 6 feet, accommodate two speed rails for a slider dolly and provide the user with a stable base for sliding, eliminating the need for transporting C-stands and sand bags. The slider will also accommodate any size camera and lens.
"The versatility of set-up sold us as well," adds Kulesh. "It is customizable to the user's needs and configurations. Not only can it accommodate 4-foot, 6-foot and 8-foot speed rails, the top shelf and rails can be attached at almost any height and the shelf will fit on either the top or bottom of the cart. Included are extras like four riser pins to hold a monitor, a soft light and a sound boom. Many of the parts needed are already in the end-user's personal equipment packages, and whatever else is needed can be supplemented through Matthews' off-the-shelf grip stock.
"Bill Kerrigan's KerriKart is extremely user friendly and built with knowledge and needs garnered from over 30 years of experience as a television, documentary, commercial and corporate video shooter who has worked in over 40 countries around the world. It is what we at MSE strive – a product built from a solid background in knowing what is needed to make shots faster, safer and more creative."
NAB2015
The KerriKart along with other new supports from MSE, including FLOATCAM's Pan/Tilt Head and the new VATOR III series can be seen at NAB Booth #5437 Central Hall.
About MSE
MSE is a 45-year-old manufacturer of industry-specialized hardware, camera and lighting support. Its equipment is being used on entertainment productions and in major studios in over 90 countries around the world. MSE is the exclusive distributor of the FLOATCAM and POLLY DOLLY products throughout Asia and the Americas. See more at: www.msegrip.com