RED Europe to open at Pinewood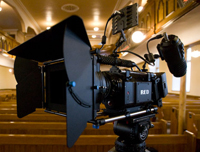 RED Digital Cinema launches its first operation outside the US at Pinewood Studios, England, to serve its European customer base, from
1 November 2008.
Challenging film in the realm of feature, independent and episodic production, RED is being hailed as a 'revolution in the democratisation of filmmaking', by offering affordable, technologically-advanced digital capture, over four times the resolution of HD video, and rivalling film performance at a fraction of the cost.
RED Europe's primary objective is to provide support, upgrades, repairs, and service to their customers on the Continent who have previously had to deal direct with the US company base.
Says Alan Piper of RED Europe, "Outside of the US, the European market is RED's largest and, in an effort to support that customer base, we felt that there was no better place to headquarter the facility than in Pinewood, one of the most important centres for film and television production in Europe."
Contact +44(0)1753 785454 or redeurope@red.com for further information.

About RED
The RED Digital Cinema Camera Company manufactures digital cinematography cameras and accessories for professional and cinematic use.
RED Digital Cinema Camera Company was founded in 2005 by Jim Jannard, founder of the Oakley company. The company's initial product is the RED One, capable of recording at resolutions up to 4096 horizontal by 2304 vertical pixels (4K 16:9), directly to flash or hard disk based digital storage. It features a single 12MP Super 35-sized CMOS sensor and a cinematography industry standard PL mount.
The camera body is priced far below any comparable product, and as a result it makes high-resolution digital cinematography accessible to many more productions.[1] This aggressive pricing, extraordinary performance and RED's approach of reaching out to potential customers through online forums – unusual in the traditionally very small digital cinematography market – have generated considerable industry attention.