Seminars taking place at GTC Talkback event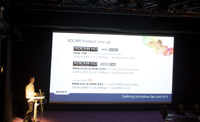 At the BFI Southbank, the programme of seminars has resumed after lunch with a presentation by Sony during which they introduced their current range of products including the XD CAM HD, XD CAM EX and HDV.
Meanwhile in the Delegates Centre the Tradeshow continues to attract attention. At the Sony stand GTC Secretary Dudley Darby really wants to know what that knob on the latest PDW-700 does!