The GTC is delighted to welcome Fujinon as sponsors
The GTC is very pleased to announce that Fujinon Europe has joined our growing list of sponsor companies.
The Fujinon brand of TV and Cine lenses provide cutting-edge technology, outstanding optical performance, reliability and durability, as well as innovative features, to broadcast and cinematic productions across the world. Fujinon constantly expands the boundaries of optical technology in order to deliver the highest possible quality that can be achieved within the natural boundaries of physics. The lens is the first element in the production chain that captures and bundles the light. This makes it one of the most important tools in the production chain. Fujifilm was the first manufacturer to introduce broadcast zoom, full-servo cine zoom and precision focus lenses to the global broadcast industry.
New 4K Ultra lenses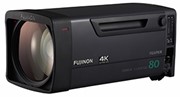 One of the latest exciting developments from Fujinon is the 4K UltraHD series of lenses, recently awarded a TV Technology Best of Show Award at the NAB Show. Both the UA80x9 field lens and UA22x8 portable zoom lens have optical performance compatible with 4K 2/3-inch broadcast cameras and were developed in response to market demand for 4K optics that work with these cameras.
The UA80x9 4K field lens has an 80x zoom and optical image stabilization, making it ideal for coverage of large-scale events. The lens covers focal lengths ranging from 9mm in wide angle to 720mm in telephoto.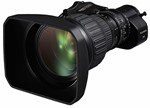 The FUJINON UA22x8 4K zoom lens features a compact and lightweight design, a 22× zoom ratio and a focal length from 8mm in wide angle to 176mm in telephoto. The UA22x8 excels in capturing a broad range of applications, including live sports, programme production and news reporting.
Both the lenses were designed using the latest proprietary optical simulation software. The UA80x9 and UA22x8 lenses offer exceptional 4K optical performance in the centre of the image through to the corners of the frame. Fujifilm's 'High Transmittance Electron Beam Coating' (HT-EBC) is applied to the lenses for enhanced transmission, contrast, dynamic range and colour reproduction. The Fujinon lenses can be linked with other systems, such as a virtual studio system for combining CG images with live action.
Fujifilm Corp
Fujinon has been a wholly owned subsidiary of Fujifilm Corp (which evolved from the Fuji Photo Film Co established in 1934) and merged fully with Fujifilm in 2011. Fujifilm entities operate in around 50 group companies in Europe, employing approximately 5000 people in R&D, manufacturing, sales and service support. FUJIFILM Europe GmbH (Düsseldorf, Germany) acts as Strategic Headquarters for the region.
For more information:
Download Fujinon brochure or visit: www.fujifilm.eu and www.fujifilm.eu/fujinon