Vinten win World Cup contract
Good news for long-standing GTC sponsor company Vinten – the Vitec Group brand and global leader in camera supports, has won a large order for tripods, heads and other support equipment to be supplied to SABC in South Africa as the Official Broadcaster for the 2010 FIFA World Cup in South Africa. The kit will equip a fleet of four new outside broadcast trucks being built by Sony Professional in the UK.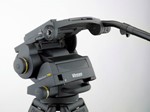 Each truck will carry 12 Vector 750 pan and tilt heads, six Vision 250 heads and two lightweight Vision 11 heads. All feature Vinten's unique Perfect Balance technology which ensures that, once the counterbalance mechanism is set, the camera can be left at any tilt angle confident that it will remain precisely in position.
The heads are complemented with appropriate tripods, including 12 HDT-2 heavy duty tripods with spreaders for the principal cameras. The order also includes skids and dollies, telescopic pan bars and scaffold clamps.

Tony Niemeyer, Vinten's South African distributor, commented "We have a great relationship with SABC, which is a big user of Vinten equipment, both in the studios and in outside broadcasts," he said. "The contract for the four new trucks was hotly contested, but SABC had specified Vinten heads and tripods for the new fleet."

The first two trucks in the order were delivered earlier in 2009 and were used for the Confederation Cup this year. The remaining two trucks will be delivered in October 2009 and January 2010 respectively.

More information about Vinten and the Vitec group can be found at www.vitecgroup.com