GTC Award Winners 2019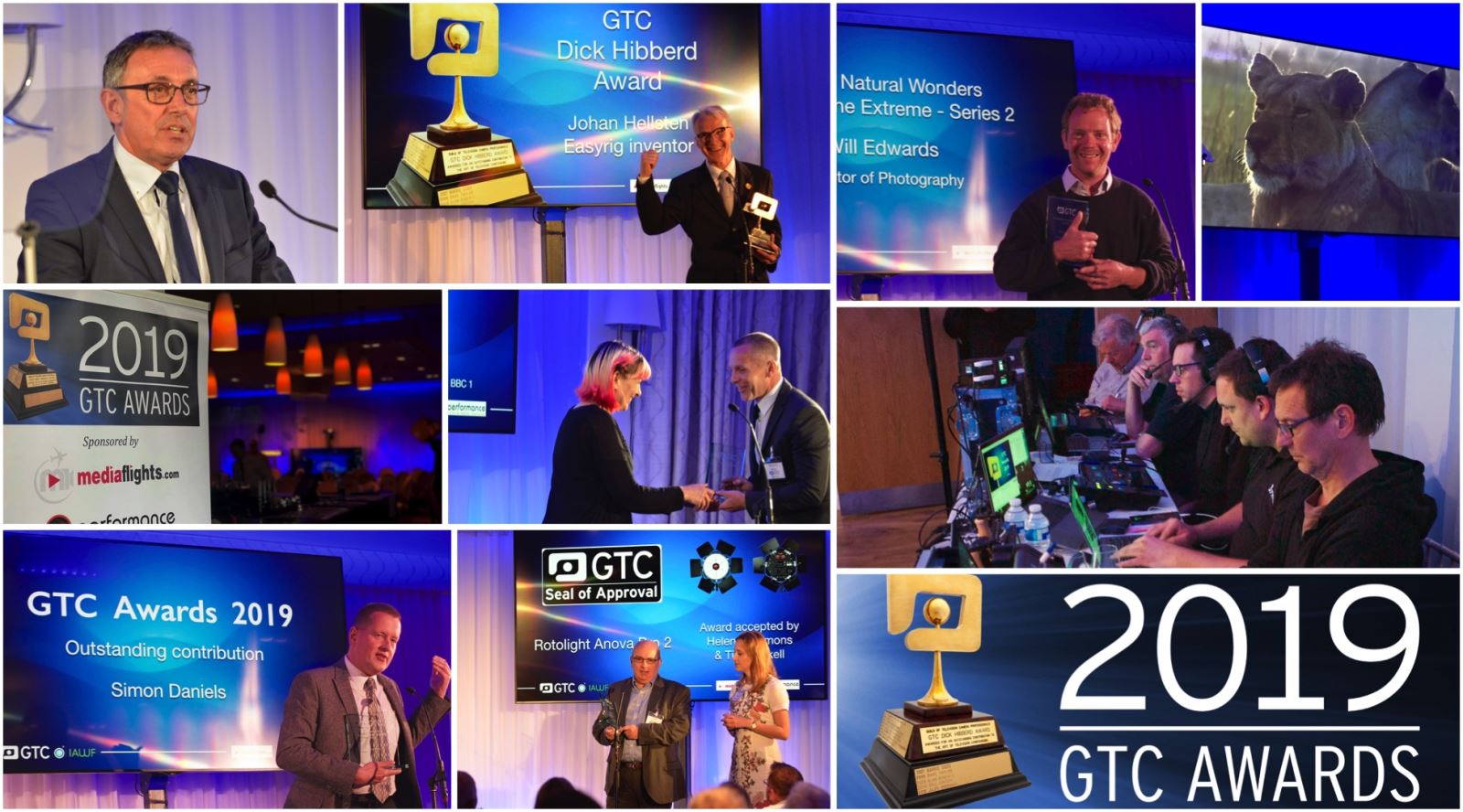 The GTC's 2019 Awards were presented on Sunday 2 June at The Wood Norton Hotel. If you couldn't make it on the night you can watch the event or read a summary below.

GTC Chairman Graham Maunder started the evening by welcoming members, award winners and sponsors and then introducing keynote speaker Neil Dormand.
Neil Dormand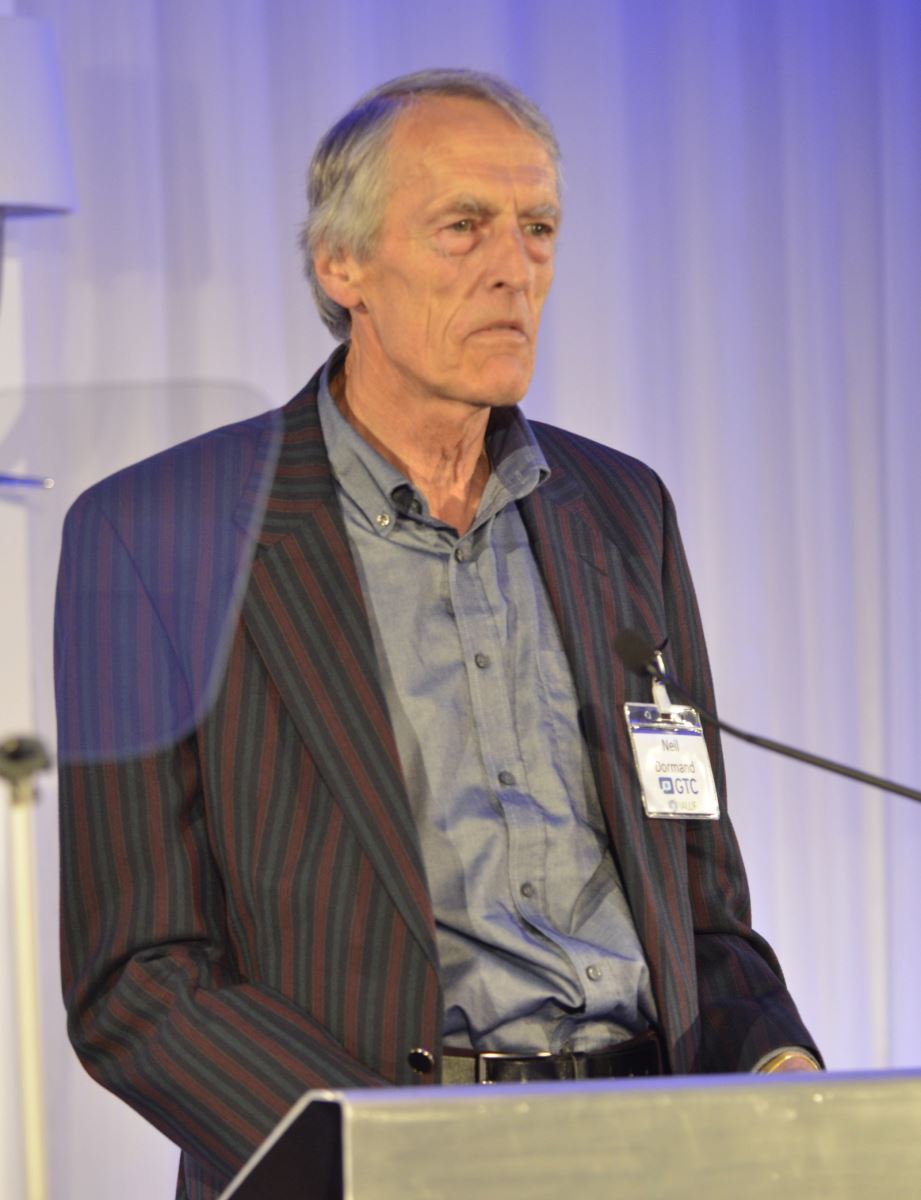 After growing up in the Channel Islands, Neil started as a cameraman in 1965. Following in the footsteps of his father, he had applied for a job as a senior projectionist but ended up as a technical operator, before later applying and completing around 13 years as a cameraman. An attachment in the engineeing department and then lighting followed. From 1978 Neil had a permanent job at Wood Norton leading to a long and varied career as a trainer. Times have changed – and he often finds himself wondering why some things are done the way they are when watching TV. He thinks it's difficult for camera professionals today because the staff structure meant you were protected and so it was easier to take risks, however, contrary to popularly expressed impressions, Neil confirmed that in his opinion standards in camerawork and other areas of production are now higher on any number of criteria – a finding that was borne out by the examples of superb camerawork and professionalism we were about to witness.
---
GTC Chair Graham Maunder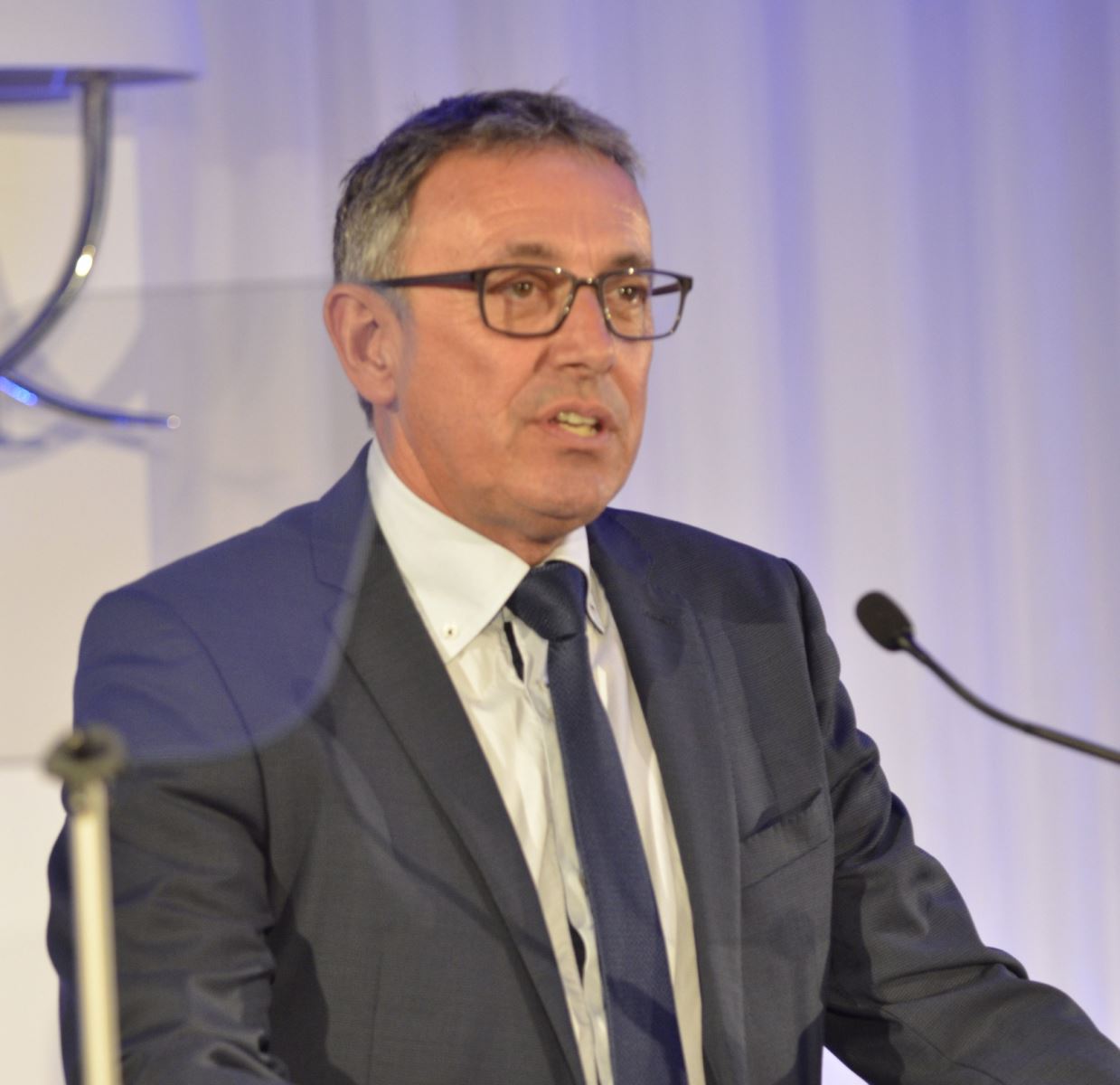 GTC Chair Graham Maunder listed some of the recent progress the GTC has made during the past year:
Free First Aid courses for GTC members around the country
Increasing numbers of members taking up the GTC Public Liability Scheme
More GTC Academy days at universities
Workshops on a wide range of industry topics
Zerb and GTC In Focus going from strength to strength
Record numbers of new members joining the GTC
New and improved GTC Forum
None of this could have been achieved without the hard work of GTC Council members, who demonstrate the willingness and determination to make the GTC ever more relevant and inclusive for all those working with TV cameras.
Graham mentioned that the new AGM venue Wood Norton has a special place in his heart as, along with many others in the room, it was where his career in the industry started. He joked:
I'm sure there are many others amongst you who remember the first time they arrived here and the trepidation wondering what was in store. After last year's venue being based around aviation and my first choice career of a pilot, I'm not sure where next year's event will be held? Perhaps it will be back here but across the road at the retirement village!
---
GTC Dick Hibberd Award Winner:
Johan Hellsten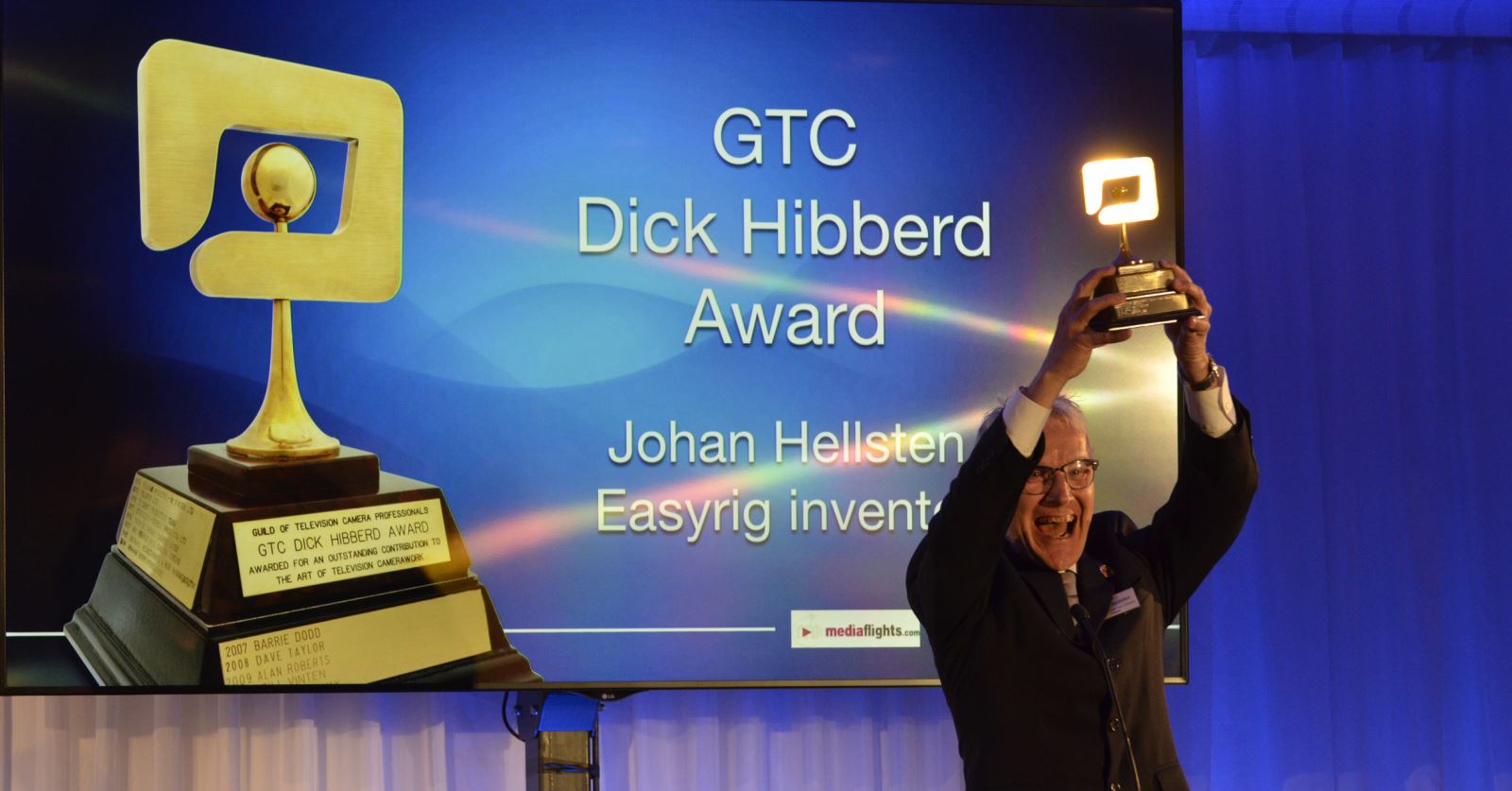 This year's winner of the GTC's top award, the GTC Dick Hibberd Award (formerly the Television Cameraman's Award or TiCA), is Johan Hellsten, Inventor of Easyrig, the back-saving rig that has benefited so many camera professionals over the years. The rig first introduced some 25 years ago now comes in a range of different models with multiple different accessories and customisations possible.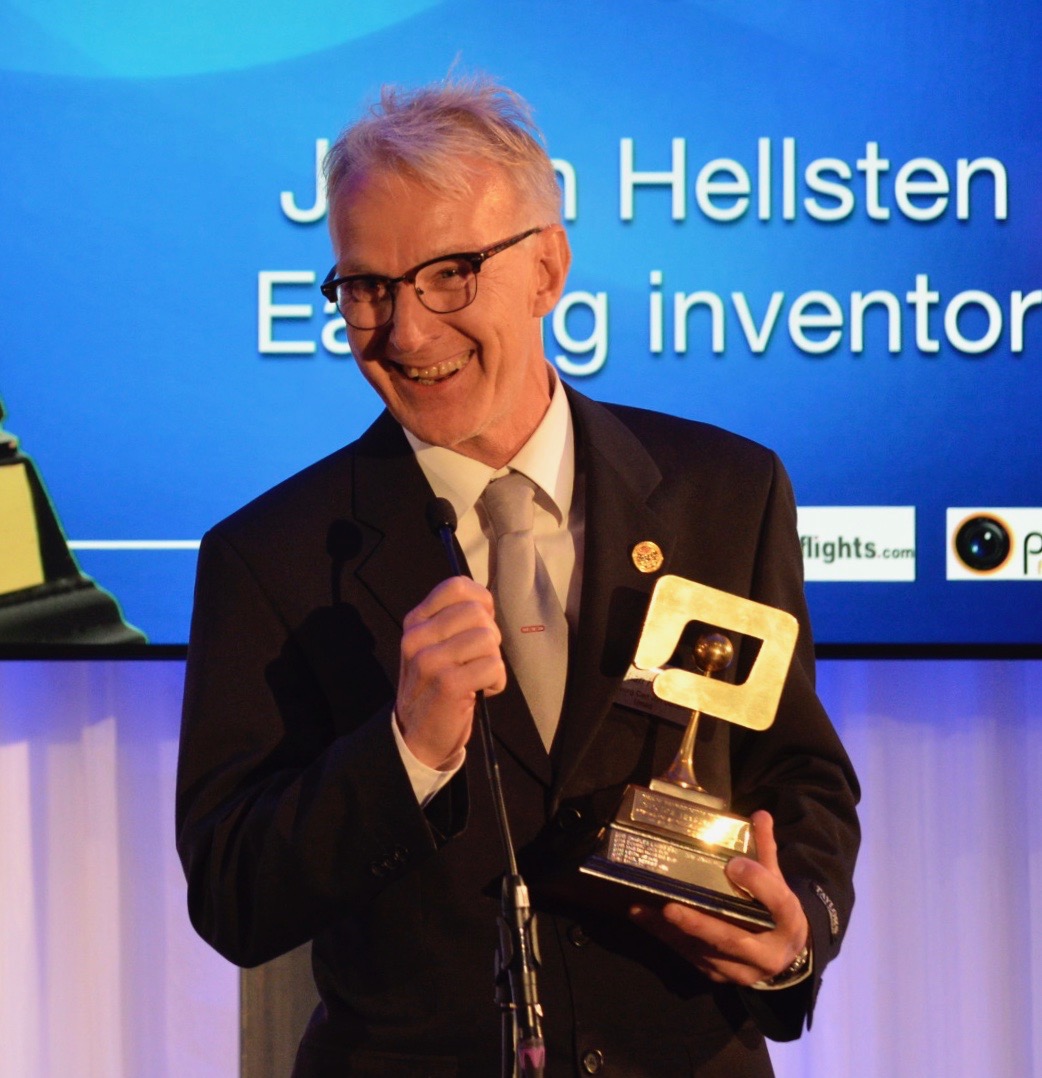 The GTC was delighted that Johan was able to fly in from Sweden to collect the Award, which he accepted with characteristic delight, enthusiasm and charm. At Graham Maunder's prompting, Johan had prepared a little video showing the factory where the now wide range of Easyrig models are made – the video was highly amusing and if Johan ever wants to give up his day job producing devices to help camera professionals a second car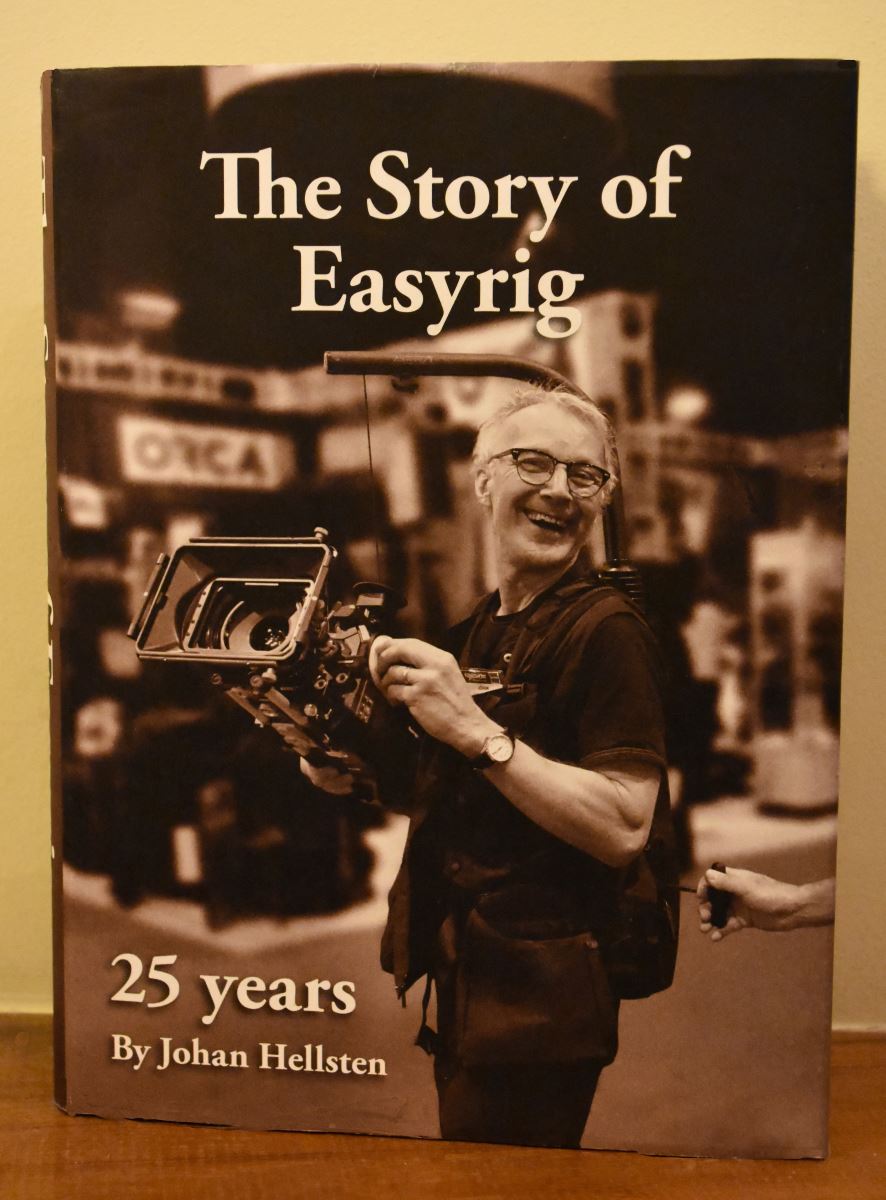 eer as a standup comedian definitely beckons!
Congratulations – and thanks – to Johan from all at the GTC!
Read the story of Easyrig in Zerb.
---
GTC Awards for Excellence
Unlike many other Awards, there are no categories in the GTC awards so every nomination is assessed for its merit independently and not just on the visual aesthetics. This allows us to consider the approach and method of filming a particularly difficult subject, for example. It also means that nominations can be drawn from all fields, multi and single camera, broadcast and online, documentary to TV drama and everything else in between.
Dynasties: Lion, BBC1
Camera: Sophie Darlington, John Aitchison
The nomination read: "As well as illustrating this extraordinarily gripping story in great detail, every frame was simply exquisite, including luscious backlit long lens shots, fascinating infrared sequences and gorgeous scene-setters with stunning skies and weather to build tension or add breathing space as necessary.

The fact that the pride of lions seemed completely unaffected by the camera crew's presence is testament to their great skill. It's easy to become a bit blasé about the quality of images regularly produced for BBC natural history series such as this, but this episode really is a wonderful fusion of great camerawork with incredibly powerful storytelling."

Unfortunately the winners were not able to attend but Sophie Darlington sent a message, in which she thanked her peers for the accolade as well as the wonderful team she works with. She also mentioned the fact that films such as this have never been so important for their role in revealing what is happening on an environmental level and the rate at which wildlife and habitats are changing. Read about Dynasties: Lion in Zerb.

Animals with Cameras, BBC1
Cameras: Chris Watts, Marcus Shirley
An unusual Award for Excellence in that in effect the animals are the camera operators on this production! The nomination mentioned in particular Chris Watts for designing cameras that were lightweight enough to go on a variety of animals without compromising their welfare or environment and also Marcus Shirley for the underwater cameras.

Chris and Marcus were there to collect the award in person and recognised that they were a just a small part of a huge team (including the animals) on an amazing project with which they were proud to be associated.

Brum Commonwealth Games Closing Ceremony Handover Dance Routine, BBC1
DoP: Nat Hill; Gimbal Operators: James Davis, John Clarke; Remote Head Op: Matt Ingham
"A phenomenal one-shot extravaganza, performed live, that got everyone who watched it scratching their heads as to how it was achieved! Well, it involved a huge Technocrane, a couple of MoVIs and some very skilled operators and talented choreographers – not to mention hundreds of local dancers. Extraordinary ambition and stunning almost perfect delivery."

DoP Nat Hill could not attend, but sent this thanks and paid tribute to the amazing team that "made the impossible possible". The Award was collected on the team's behalf by Gimbal Operator James Davies and MoVI Technician Craig Porter.
Read about the #BRUM shot in Zerb.

Earths Natural Wonders – Surviving the Extreme, Series 2 Episode 1, BBC1
Photography: Will Edwards

Will Edwards was nominated for the extraordinary coverage in a potentially very dangerous location – below a pack of sea ice above a beach at low tide in the Canadian Artic – with two Inuit women collecting mussels. With only 45 minutes to get a complete sequence in the can, Will showed considerable skill and professionalism with just his director to assist, in very cold, wet conditions in the 2–3ft high space between the ice roof and rocky beach floor. All done with a full-size broadcast camera producing very evocative pictures in the process.

Will was there to collect what is his second GTC Award for Excellence and paid tribute to both the episode's director Russell Leven for his creative support and the drone operator Peter Keith for his brilliant drone shots achieved in very high winds.

Bodyguard, BBC1
Director of Photography: John Lee
The nomination read: "The series was gripping and aesthetically very pleasing both in terms of camera movement/operation and lighting style." DoP John Lee was insrumental in making sure the camerawork kept the pace of the show going, without being intrusive.

John unfortunately couldn't be there as he was in Malyasia shooting a new drama, Singapore Grip.

The Mighty Redcar, BBC2
Series Director: Daniel Dewsbury; PDs Jonny Ashton, Stuart Bernard; Drone Op: Lee Bullock

The nomination referenced "the interesting personal stories including despair and hope but told in a different visually interesting way using great drone footage with the addition of great editing and music." The programme followed the people of Redcar with particular emphasis on how they were affected by the closure of the local steelworks – with the drone photography being done by a former steelworker, Lee Bullock.

The award was collected by Daniel Dewsbury and Stuart Bernard. In a nice unscripted moment Daniel mentioned how he had personally benefited from support from the CTBF (now the The Film & TV Charity and the beneficiary's of the night's raffle).

UCI World Track Cycling World Cup, BBC1
Segway Camera Operator: Ifor Wyn Humphreys
The sixth award shows the diversity of the GTC and is for the work done on the World Track Cycling World Cup by Ifor Humphreys. Graham said:"Having worked alongside Ifor at the Commonwealth Games in Australia, I know just how hard he works and the many races he covers almost non-stop through the day. As well as doing the 'normal' hand-held RF shots, Ifor also gets onboard a Segway for some of the races and tracks the cyclists around the arena, all whilst being encouraged by the quietly spoken director, Steve Docherty!"

Ifor was there to collect the award and thanked the GTC, saying he was honoured by being rewarded for his small contribution in amongst the work of so many "giants".

Civilisations – The Eye of Faith, BBC1
Directors of Photography: Duane McClunie, Johann Perry

The nomination for this award mentioned how it was shot with a singular vision using very unusual and compelling framing and embracing all sorts of optical artifacts. The imaginative framing and staging for the pieces to camera were also noted.

Duane McClunie was there to accept the Award. He thanked the GTC and also the directors for letting them get "carried away with lenses and so on to make it look as good as possilble".

Johan Perry sadly couldn't be there on the night but sent a video thanking the GTC and adding: "It was a fantastic series to work on, a huge privilege, many thanks to the BBC and everyone involved in the whole project."

Dynasties: Emperor, BBC1
Director of Photography: Lindsay McCrae
The nomination read: "Not only was this an extremely arduous location to film, Will and his team managed to craft some beautifully shot footage. Working with a short depth of field isn't an easy choice when operating, and put together with working in an active volcano just ups the ante! The craft of documentary making and quality camerawork is thankfully still alive in this series".

Unfortunately Lindsay was not able to attend but sent a message of thanks – which in a classic 'It Won't Necessarily be Alright on the Night' moment replayed upside down... leading to the humorous quip from Graham that Lindsay was away in Australia (he wasn't – but he was overseas)!

Phil Spencer's Stately Homes, Channel 4
Director of Photography: Jon Boast

Graham quipped: "Whilst none of our own houses maybe made it into the next winning programme I might be asking Jon to shoot a video for me if I put my house on the market!" The stately homes had their beauty portrayed beautifully with a combination of aerial, gimbal and slider shots. The presenter and expert shots also helped to reflect the beauty of the content. All the more remarkable given that this series started life on More 4 (with the reduced budget and schedule that entails) but was given recognition by the channel and given a Sunday night slot on channel 4.

Unfortunately Jon was not able to attend but sent a message of thanks from Albuquerque. Camera assistants Avon and Warren were able to collect the award on Jon's behalf and thanked 'Boasty' for the opportunity to work on such a great series.

Hidden, BBC1 Wales, BBC4
Director of Photography: Stuart Biddlecombe
The nomination for this award stated that it was "really naturally shot giving the 'noir' feel but without being too dark and dismal striking a great balance between standard conventional framing and the more avant garde or contrived framing that, when overdone, can sometimes feel too wasteful of space and feel too odd. It just all gelled and the camera work complemented the acting and subject matter rather than dominating it or becoming too 'look at me' or jarring through too much unconventionality."

Sadly, Stuart wasn't available to attend but sent a message of thanks from Canada, where he is currently filming and said that he is "completely honoured to have his work recognised by his respected colleagues".

Michael Palin in North Korea, Channel 5
Camera: Jamie Gramston

Michael Palin in North Korea was a "beautifully shot documentary in a country that is so far removed from anything we are used to."

Unfortunaely Jamie Gramston couldn't be there on the night as he is currently in the USA working on a documentary with Billy Connolly but he sent a message thanking the GTC and stating what a prvilege it had been to shoot the series with Michael Palin, He also paid tribute to the always charming and upbeat fixer for the series Nick Bonner, who oiled the wheels and made everything possible through his expert knowledge of visiting and working in North Korea.

Father Brown, BBC1
Camera Operator: Richard Hines
"Father Brown has been shot each summer since 2012 and is often overlooked on UK schedules due to mainly having daytime slots, yet it has been sold to 162 territories by BBC Worldwide. This is a reflection of the high production values and consistently excellent camerawork in whatever the scene or conditions a British summer has to offer and despite severe time pressures. Richard Hines has led the way as 'A' camera for most of the series and he sets a high bar for all operators and assistant camera operators who have worked on the programme."

Richard was there to collect the award and thanked Transmission TX, his crew, BBC Birmingham and the GTC.
---
Outstanding Contribution Award:
Simon Daniels
In introducing this year's 'Outstanding Contribution' award (to a sound recordist) Graham joked: "I've been working in TV now for 40 years... 37 of them waiting for sound."

However, adopting a more serious tone Graham continued: "Mostly though they're invaluable – they have your back on ENG shoots, they help carry your toys, they park the crew vehicle while your lighting and, to be fair, they make our pictures so much better by adding some noise so that everyone knows what's going on! Seriously, we all know we couldn't live without them – and for one famous footballer turned presenter he certainly wouldn't have lived without the fast thinking and prompt administering of CPR that this year's winner was on hand to give."
When Glenn Hoddle famously collapsed whilst suffering a cardiac arrest in the BT Studios in London, a sound recordist was immediately on hand to take control of the situation until the ambulance and paramedics arrived.
Past GTC Chairman, Graeme McAlpine told us:
"I was present when the incident happened and know that his action and leadership not only saved a life but contributed to many in the TV industry considering their first aid abilities"
In fact, it was this incident that prompted the GTC to introduce free First Aid Courses for members across the country.
For his life-saving and quick-thinking action, this year's Outstanding Contribution Award goes to sound recordist Simon Daniels.
---
GTC Seal of Approval:
Rotolight Anova Pro 2
None of us would be able to do our craft without the equipment we use on a regular basis.Throughout the industry we all have our own favourite cameras, lenses, tripods, lights and a 101 other little bits and pieces that you amass over the years and that become invaluable to you.
At the GTC, we acknowledge the products that have become 'game-changers' by awarding them our very own 'Seal of Approval'.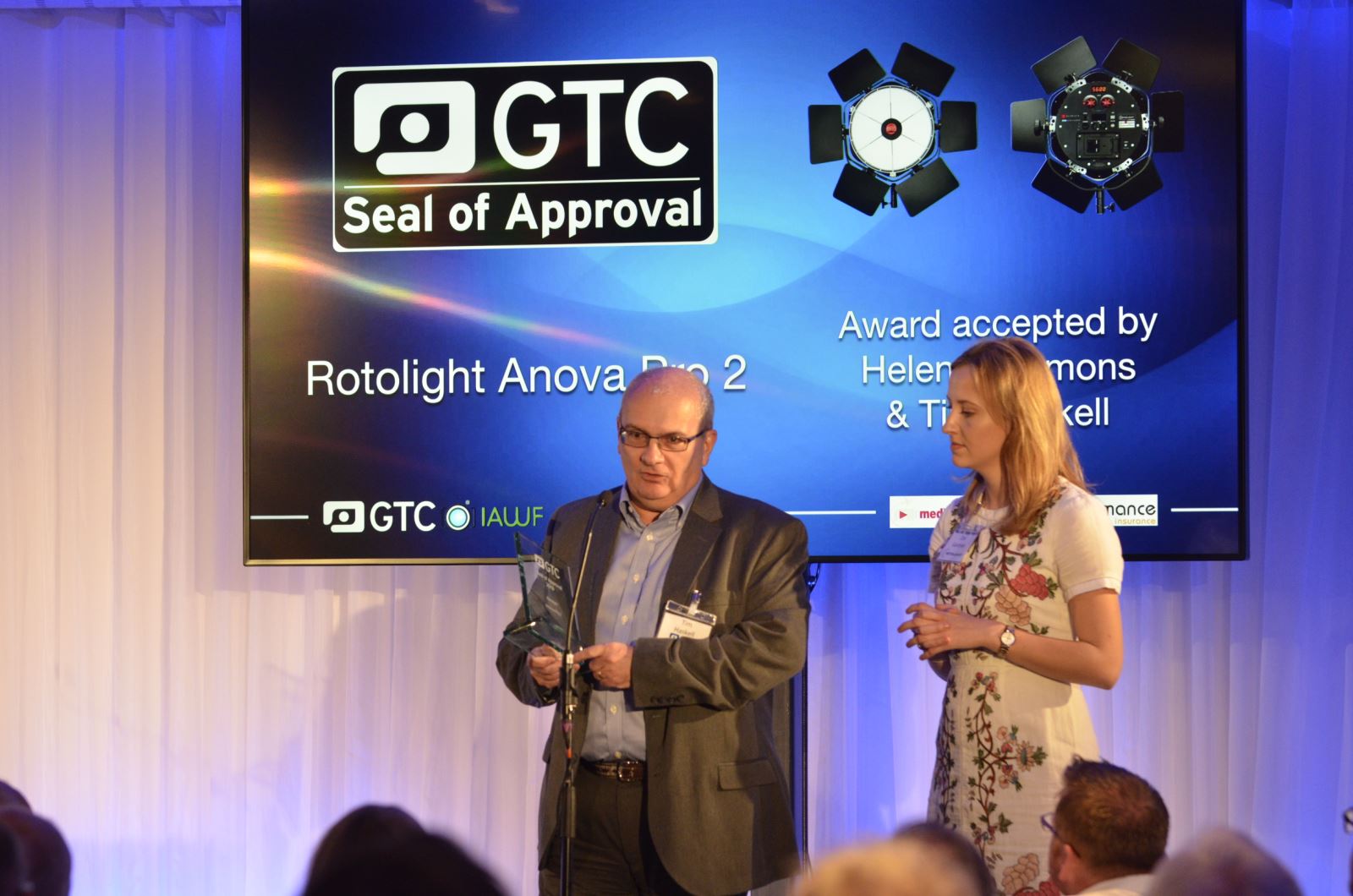 To gain this Award the product must have been around for at least a year and have received a nomination from a GTC member. The Council then ask for opinions from other members and eventually votes on the products nominated. This year the Seal of Approval goes to Rotolight's Anova Pro 2.
Rotolight's Tim Haskell and Zoe Gardiner were there to collect the Seal of Approval on behalf of their small company (22 people but growing) and, in accepting the award on

behalf of the whole team, Tim both thanked the GTC and pointed out that the company is proud that Rotolight fixtures are entirely designed and manufactured in the UK.
---
Sam Clarke
During the Awards presentation there was a brief break to hear about the progress of GTC member Sam Clarke, who is undertaking an incredible sponsored 6000-mile charity bike ride / skydiving challenge in aid of sufferers from Alport Syndrome, a devastating illness with which Sam was diagnosed himself in early childhood. Sam was currently off the northern coast of the Netherlands undertaking some of the 60 skydives he will complete as part of the challenge and took time out to update us on how it's all going. His aim is to raise £20,000 for Alport UK to enable children with the syndrome to secure grants to enable them to take part in their own challenges and enjoy active lives while they can. See more about the charity and Sam's epic challenge: fightingfailurechallenge.com
---
GTC Awards judging
The GTC Awards are each year judged by a different panel of invited GTC members and colleagues. With the shortlist consisting of nominations made by GTC members, the GTC Awards are truly recognised as an accolade from peers from within the camera department, an aspect particularly appreciated by recipients of the Awards .
This year's judges were (l to r): Mike Connolly, John Rossetti, John Henshall, Alan Duxbury, Hazel Palmer, Peter Newman, Graham Maunder, Graham Hatherley (IAWF), Alison Chapman, Keith Massey and we were grateful to the BSC for the use of their Lodge for the day and to GTC sponsor Sony for allowing us to view clips in their wonderful DMPCE viewing facility.
The GTC Council is very grateful to Hazel Palmer for her taking on and completing so well her first year in the role of GTC Awards Officer.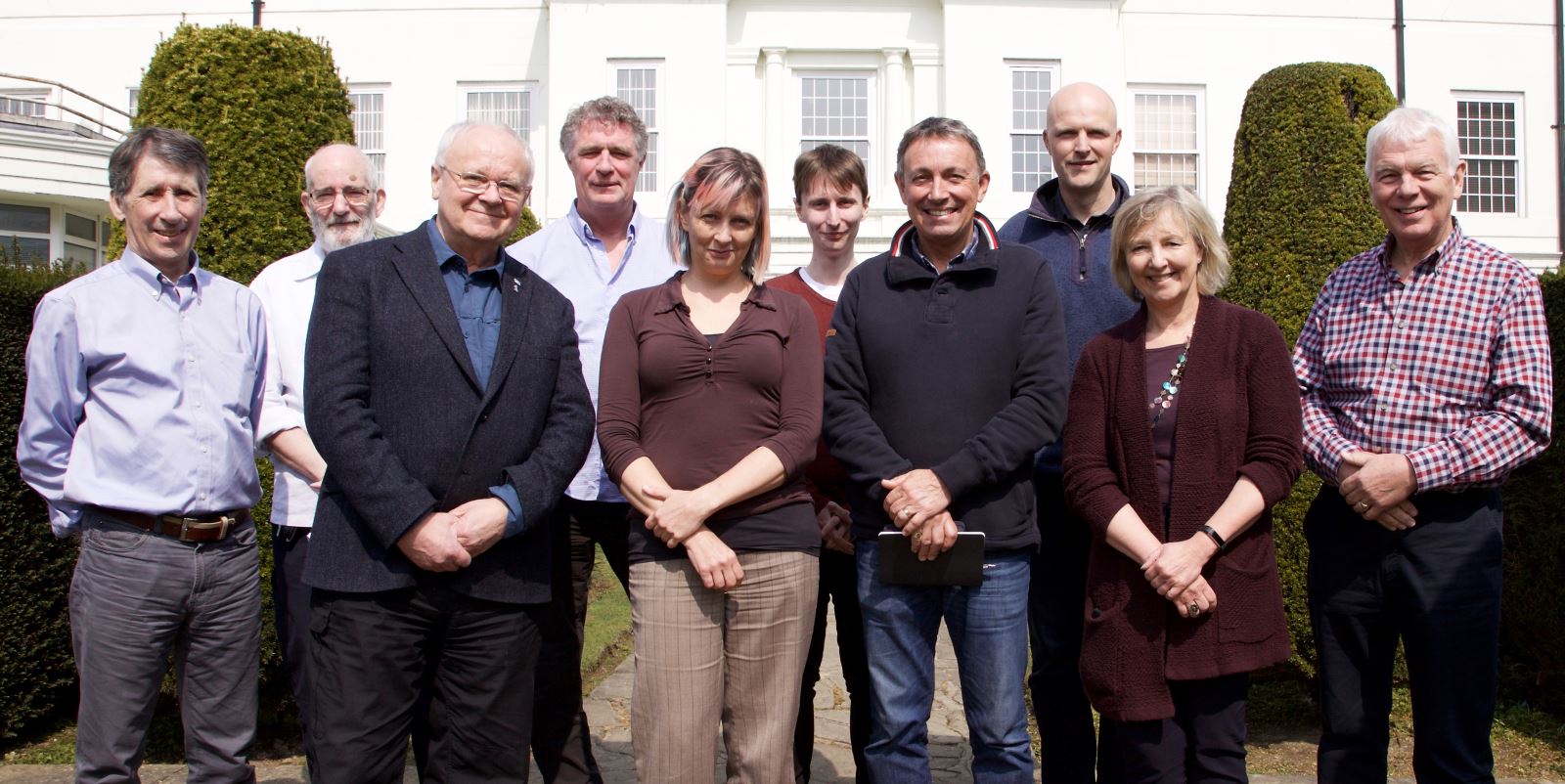 ---
GTC Awards 2019 sponsors
The GTC Awards organisers are very grateful to all the following companies for their generous support of the event.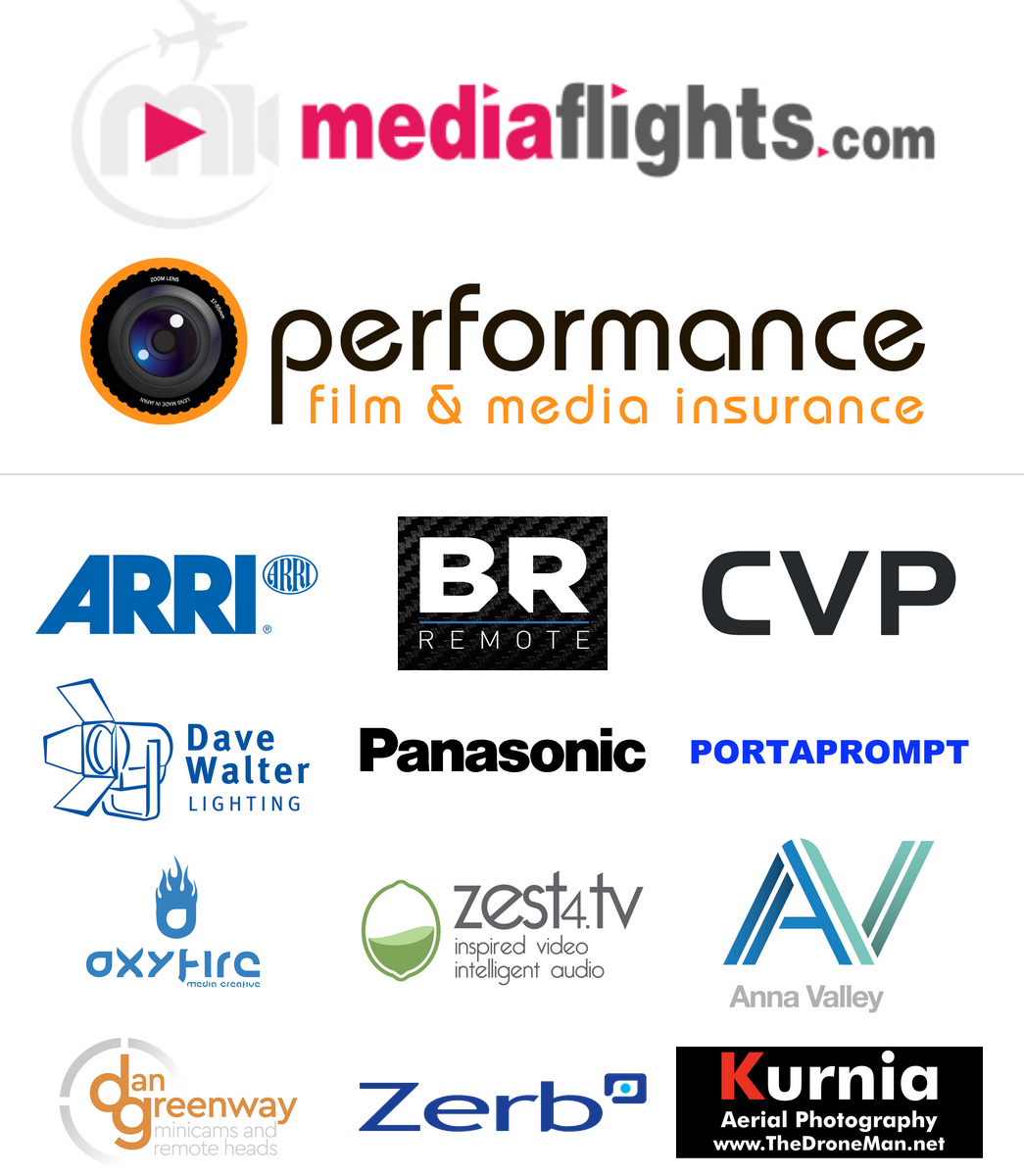 Where to next?