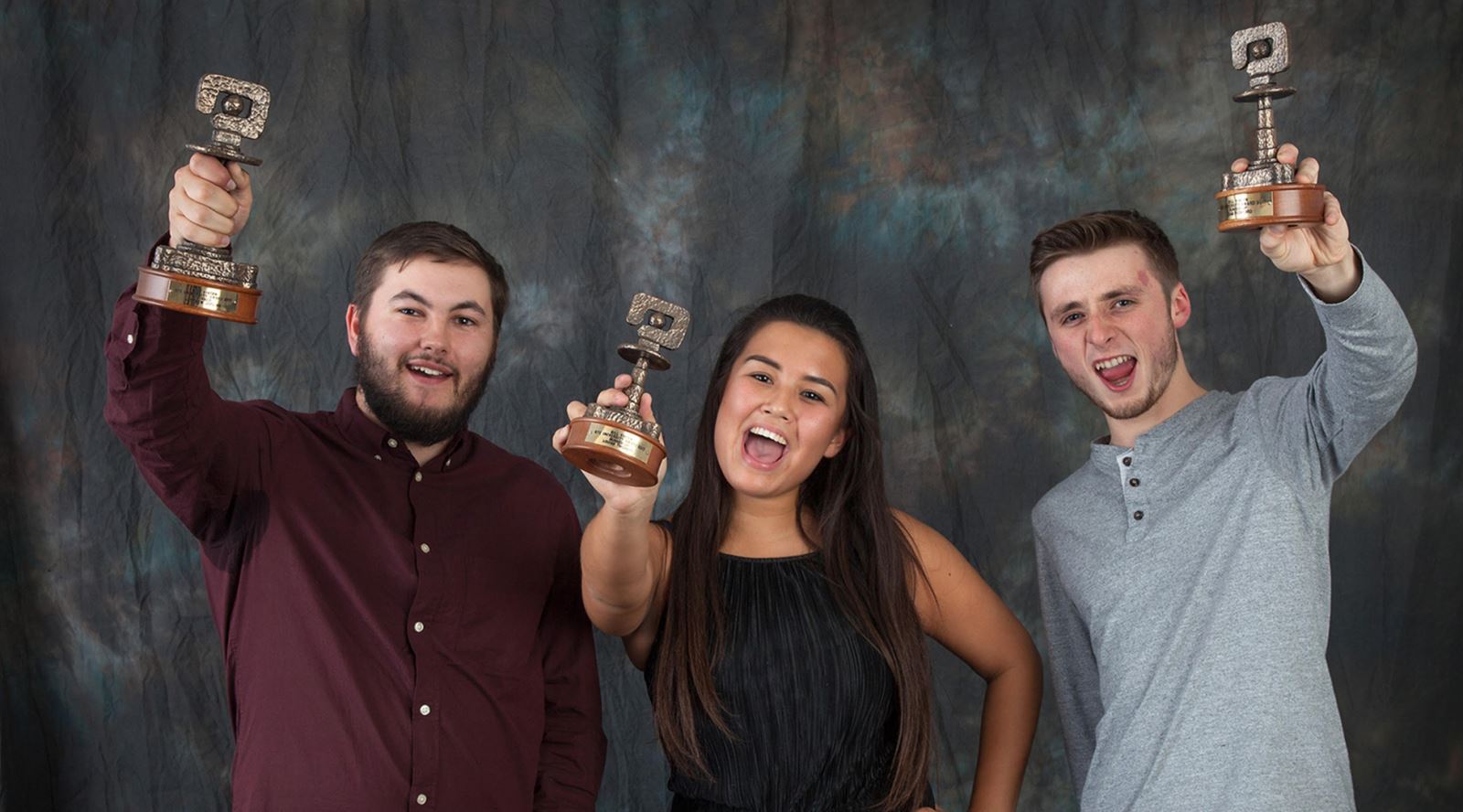 It was a full house and a great atmosphere in the 200-seat lecture theatre at the University of Portsmouth for the presentation of the fifth Bill Vinten GTC University Awards.
Nominees, guests, sponsors, GTC members, tutors and students watched as lecturer, Josh Fortune, received the University Trophy on behalf of Ravensbourne. It's the first year that Ravensbourne has entered the competition, submitting a portfolio of films which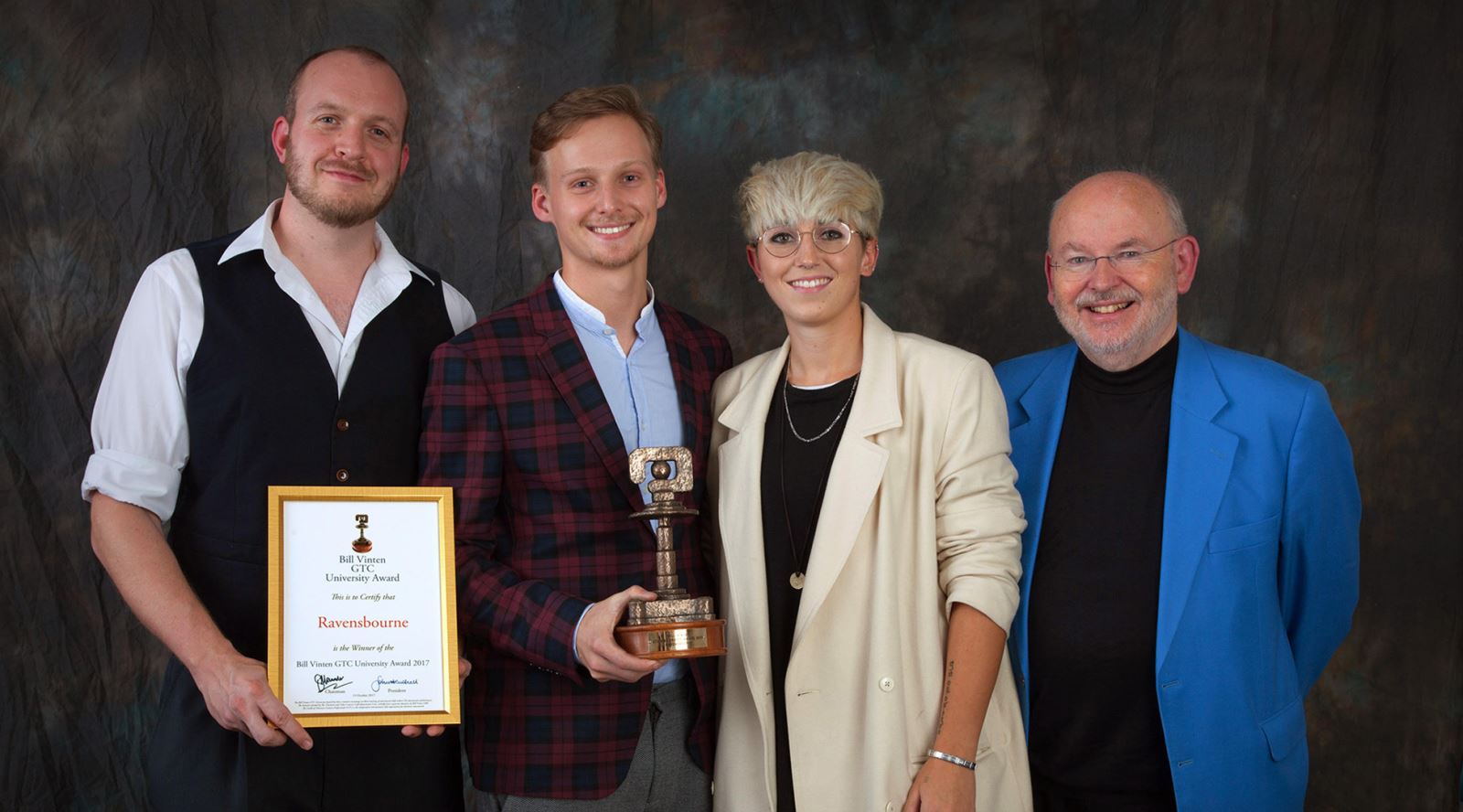 included the dance routine Anemoi, a documentary on a new whisky distillery in Speyside and the drama Wayfaring Strangers.
Both Olivia Norman-Reade and James Sheridan-Vigor from Ravensbourne reached the individual shortlist, James for his aerial work on Speyside and Olivia for the cinematography on Anemoi. Peter Bishop, DoP on Wayfaring Strangers completed the highest scoring portfolio.
The Bill Vinten GTC University Award for undergraduates was won by Matt Jopling from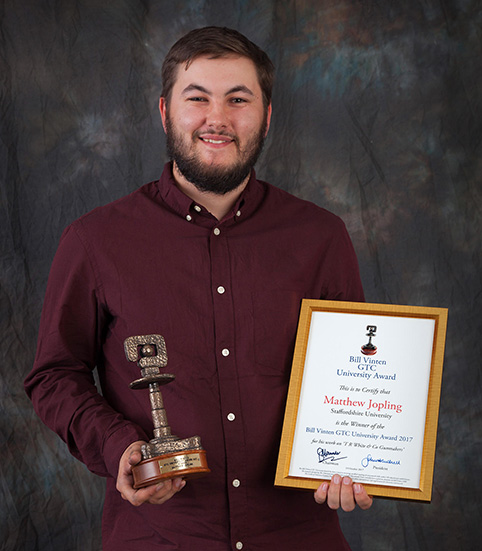 Staffordshire University. The award was presented to him by the GTC's 'First Lady', Jean Hibberd, wife of our founder Dick Hibberd. Matt produced, directed and filmed T R White & Co Gunmakers, making this the first time documentary camerawork has taken first place. The judges described Matt's work as "visually excellent", "beautifully shot and paced" with "lovely close-up work", "great compositions, good use of natural light and appropriate use of movement". One judge called Matt "the stand-out talent". Matt will be joining DoP John Lee on a new drama series written by Jed Mercurio called Bodyguard for work experience funded by the Television and Video Camera Craft Educational Trust.
Runners-up were Adam Pickford from Wiltshire College and Louise Thickett from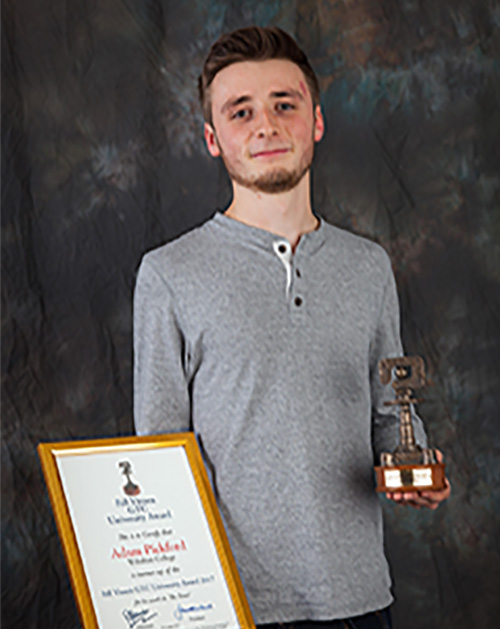 Bournemouth University. With Adam's camerawork on The Fence, the judges acknowledged a "consistency of style throughout the film" and "an imaginative use of movement and tracking shots". One of the judges, lighting cameraman Colin Rogal, called this "the most complete drama entered". Adam will join Zac Nicholson on a his latest project, Red Joan, directed by Trevor Nunn.
Louise directed and filmed Manambong Road in the Philippines and the judges praised the establishing shots and "beautiful vivid cutaways". The judges said Louise demonstrated a key skill of a documentary maker: getting to know the subject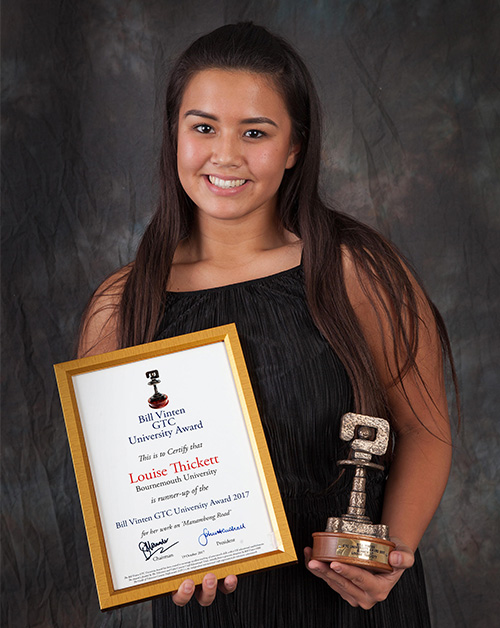 and allowing them to talk. In this intimate and personal film we meet a young family. At first the film is "positive and fun, then much more real, honest and heartbreaking" as we learn of their ambitions and disappointments. Louise is studying for a Masters degree but also hopes to join John Lee on location.
The evening was an opportunity to meet colleagues over a plate of paella and a glass of wine, and to hear from wildlife film-maker, IAWF member Graham Hatherley. Graham explained how he was inspired by his mother who showed him a cricket as a small boy, sparking his interest in the natural world. Borrowing his brother's camera Graham started out taking photographs of insects and butterflies, continually refining his technique and knowledge. Many years later, Graham was dressed in riot gear as protection against attack from the powerful Harpy Eagle, while filming its nest for the BBC series The Hunt in the Amazon rainforest. GTC members will have a second opportunity to hear Graham speak at the GTC University Academy at Bournemouth University on 8 November.
The Universities taking part in the competition this year were:
Leeds Beckett University (Northern Film School)
Ravensbourne
Staffordshire University
University for the Creative Arts
University of Bournemouth
University of Gloucester
University of Hertfordshire
University of Kingston
University of Lincoln
University of Portsmouth
University of Sunderland
University of the West of England
University of York
Wiltshire College
Bournemouth University placed second and the University for the Creative Arts placed third this year. Both have won the competition in previous years.
All the shortlisted candidates and their films can be seen here: www.gtc.org.uk/the-gtc-awards/university-awards/bill-vinten-gtc-university-awards-shortlisted-films.aspx