Polecam adds Ronin gimbal for extra stability at the Red Bull Cliff Diving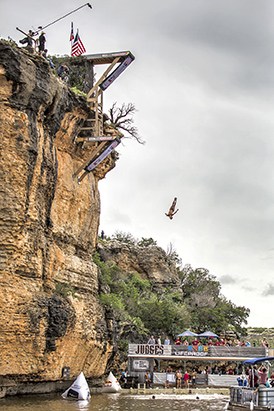 Polecam Systems recently enhanced the stability of DOP John Gillan's rig by adding and interfacing a Ronin-M gimbal to capture great images at the Red Bull Cliff Diving. Until then shooting was proving difficult due to the high winds at the top of the cliff.
"Whether it's a Jimmy Jib or a Polecam strong wind is always tricky for a jib but I knew the recent developments in gimbal technology could provide the answer. Steffan Hewitt and his team were great in getting this ready in time and the results were brilliant," says Gillan.

Gillan shoots with a Toshiba IK-HD1 camera mounted with a Fujinon XT17 zoom lens (http://www.polecam.com/fujinon-17x-zoom-lens). With a 4.5–77mm range and the lens controlled by the Polecam ZIF handle, this works a treat on the gimbal head even in such windy conditions.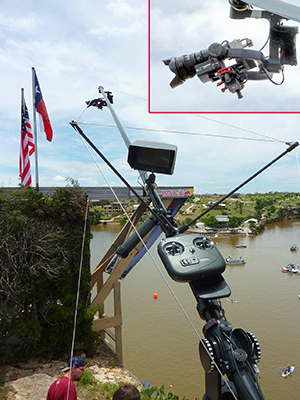 The Red Bull event in Texas was also this year hampered by massive flooding. The ramp had to be raised 5m due to the increase in water level.
At one point a resonance vibration started in the Ronin-M due to the stiffness of the boom. There wasn't time to adjust the tension on the boom's wire struts but a quick tweak on the Ronin-M app rectified the situation. (You will be able to read more about setting up the Ronin in the forthcoming issue of Zerb.)

"This is something we have been looking at for a while and will soon be launching our own bespoke gimbal that will give Polecam operators a new lease of life," says Steffan Hewitt, founder of Polecam Systems. "In the meantime, interfacing 3rd party gimbals seems a simple and very effective solution."

See more about Polecam at: www.polecam.com
See more about John Gillan's work at: www.jgbroadcast.tv
See more about the DJI Ronin: www.dji.com/product/ronin