The GTC welcomes new sponsors AJA Video Systems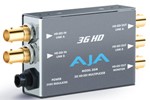 The GTC is delighted that leading manufacturer of digital video interface products AJA Video Systems has joined the growing list of GTC sponsors. The Guild is very grateful to all of its sponsor companies for their vital ongoing support.

About AJA Video Systems, Inc.
Since 1993, AJA Video has been a leading manufacturer of high-quality and cost-effective digital video interface, acquisition, conversion and desktop solutions supporting the professional broadcast and post-production markets. The company is headquartered in Grass Valley, California. AJA's award-winning products include a broad range of digital video conversion products and an industry-leading line of Mini-Converters, KONA video capture and playback cards, Io Thunderbolt desktop video products and Ki Pro family of portable disk recorders.

See the next issue of Zerb (out in August) for a user review of the Ki Pro Mini portable disk recorder.
More about AJA at: www.aja.com