GTC Award Winners 2017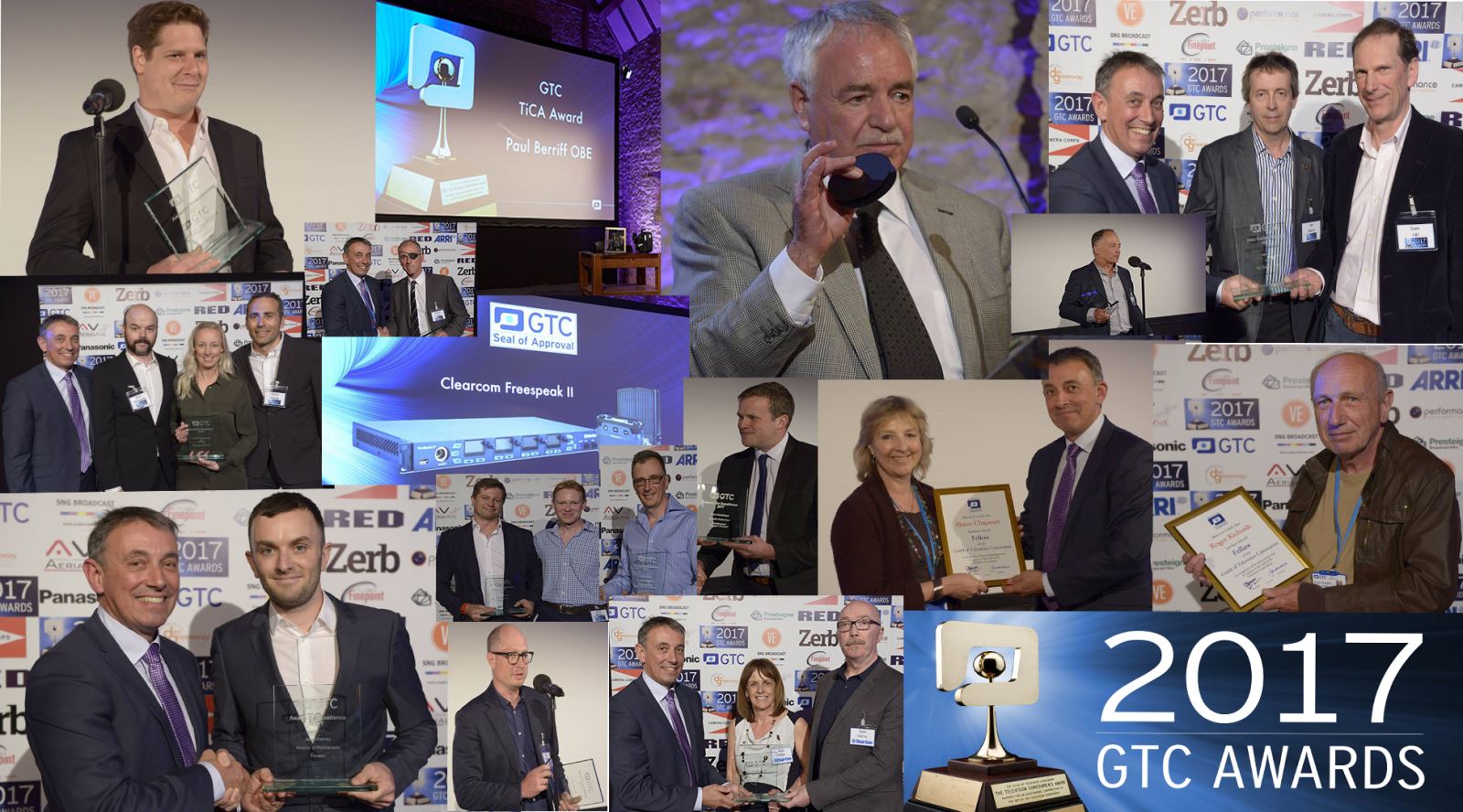 The GTC's 2017 Awards were presented on Sunday 14 May in The Great Barn, A Day in the Country, Upper Aynho, Oxfordshire.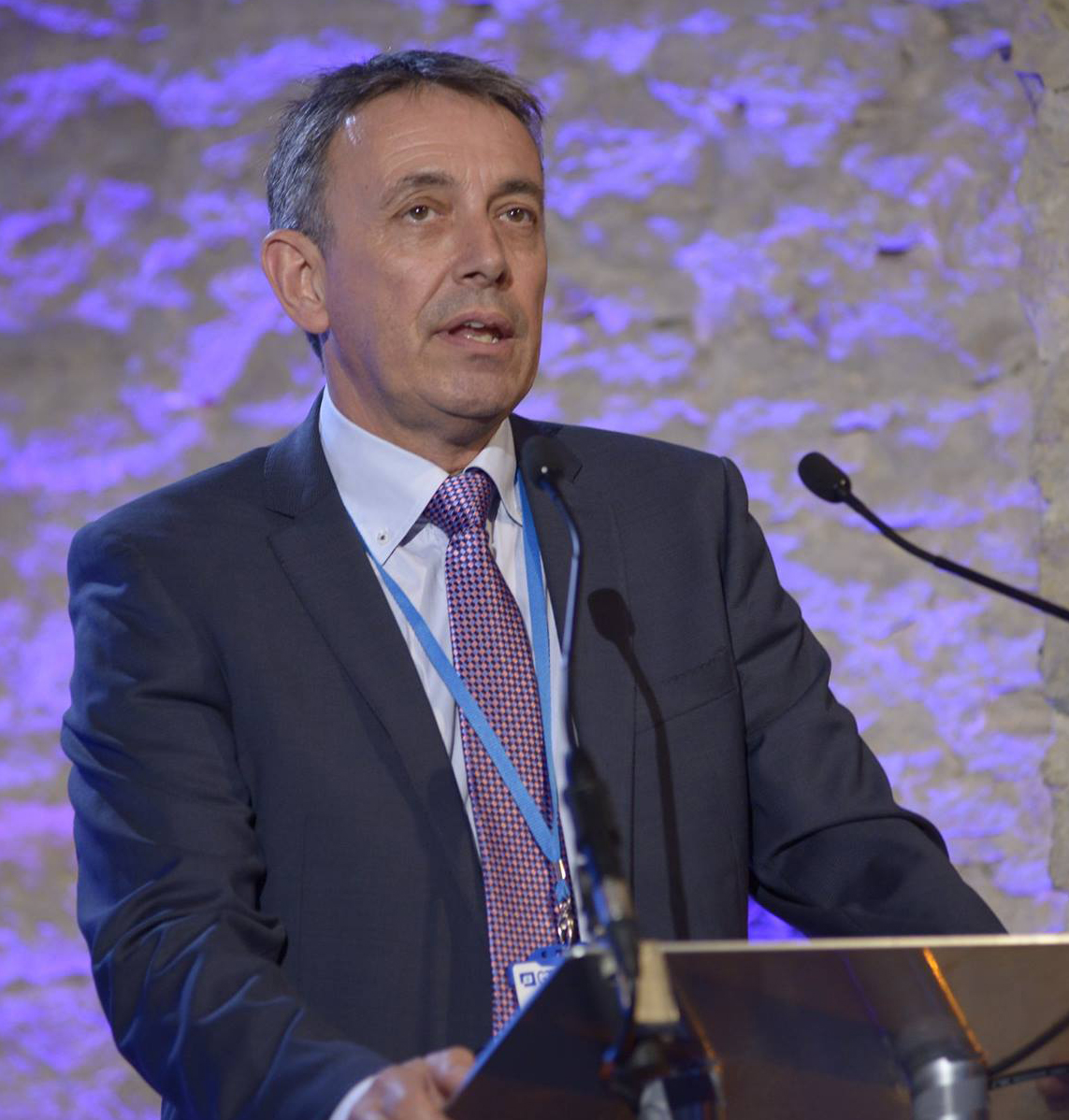 The evening started with an introduction by GTC Chairman Graham Maunder, who paid tribute to the talent and expertise we were about to witness, while also drawing attention to the serious strains that working conditions in the industry can currently put on crews.
Graham handed over to the MC for the Awards, Chris Owen,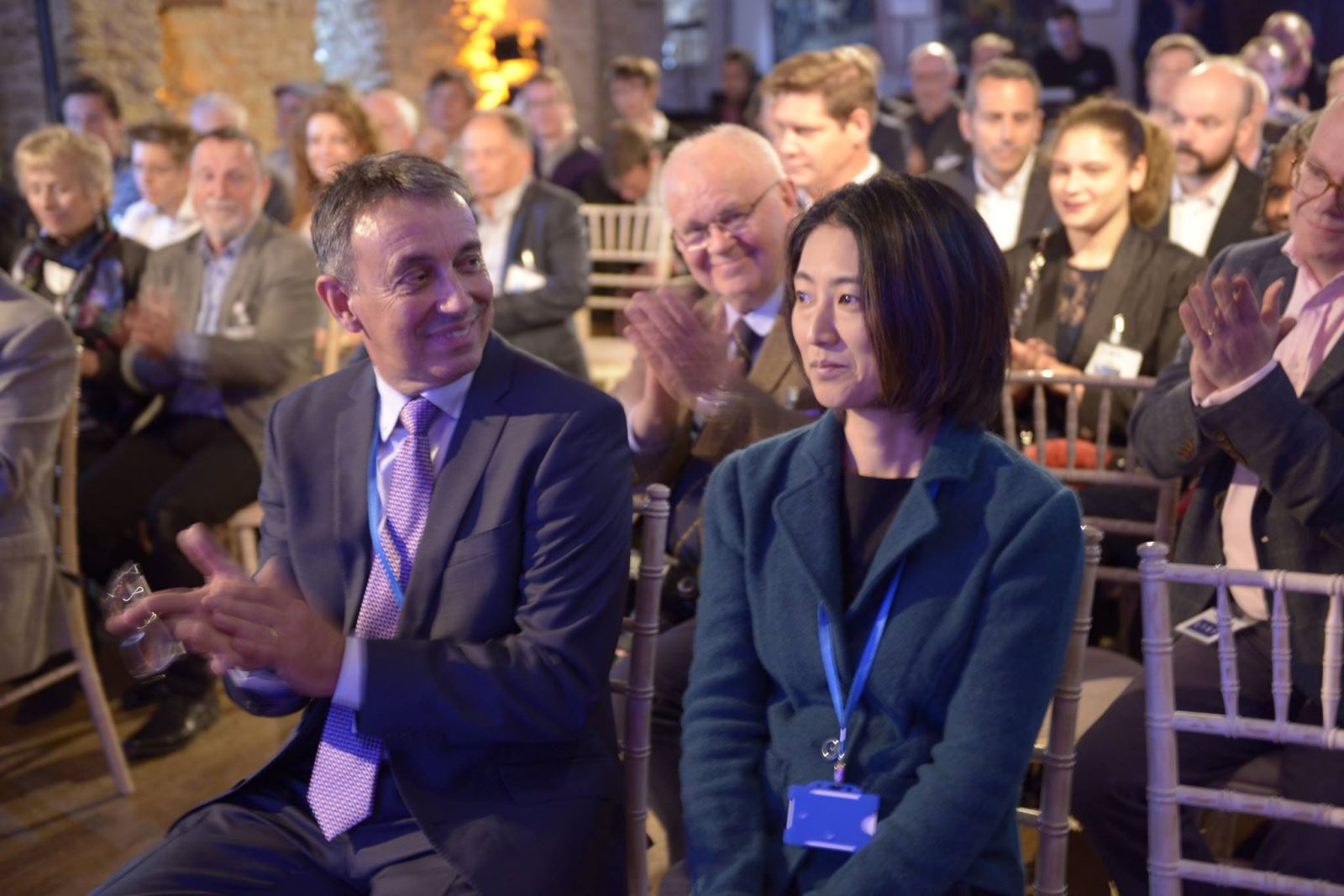 who first of all thanked the new GTC Awards Officer Mari Yamamura, who in her first year in the job had done such a great job in organising the entire nomination, judgin
g and Award presentation process.
Chris then introduced this year's winners (not in the order below!)
---
TiCA Winner: Paul Beriff OBE
This year's winner of the GTC's top award, the Television Cameraman's Award (TiCA), Paul Beriff OBE, was introduced by GTC Ambassador Keith Massey and the Award was presented by last year's TiCA winner Keith Gibson.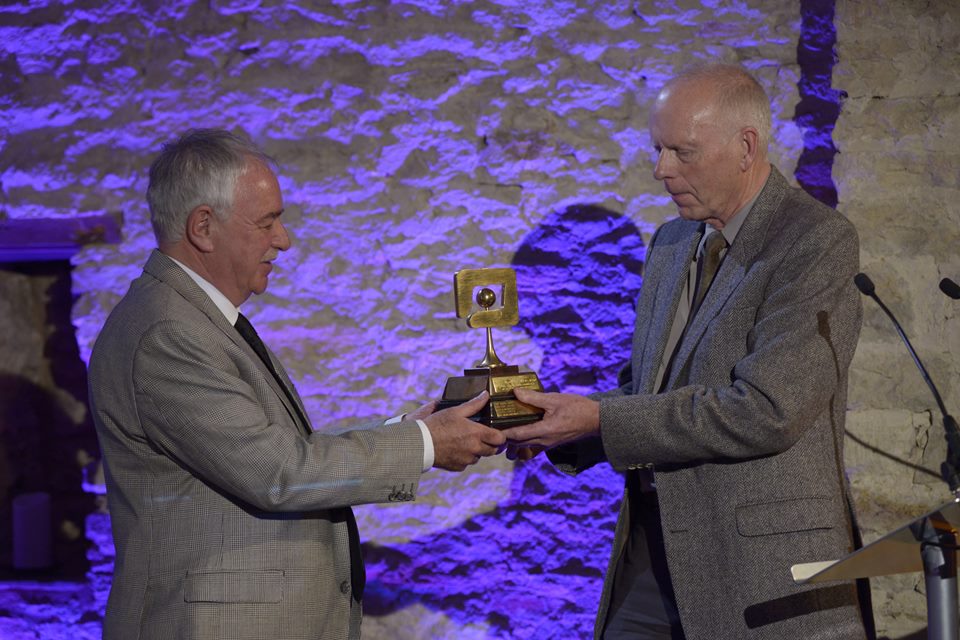 After Keith Massey's summary of Paul's remarkable career, long-term colleague and friend, sound recordist Terry Ricketts also recalled a long and eventful career working alongside Paul.
Paul Berriff OBE spent 40 years behind the camera, shooting or producing, but his career actually began in stills and, amongst many other subjects, his portfolio of work features photographs of The Beatles, The Jimi Hendrix Experience, Pink Floyd and The Rolling Stones.
After changing to moving images, Paul found his niche as the youngest cameraman at the time to work for the BBC in a career that saw him co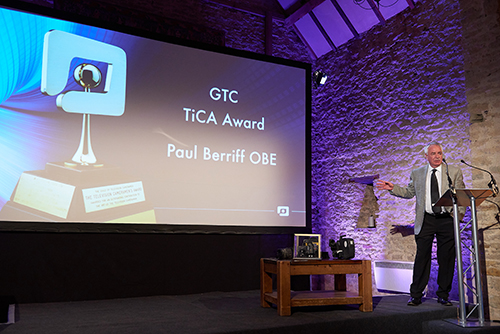 ver major stories from the Piper Alpha disaster to being on the ground during the World Trade Center attacks on 11 September 2001. Paul was on the scene to film New York firefighters and actually shot the iconic footage of one of the towers collapsing as he tried to reach safety. In the event he was still so close that some of the debris fell on him, knocking him unconscious for 25 minutes.
To illustrate his keynote acceptance speech Paul had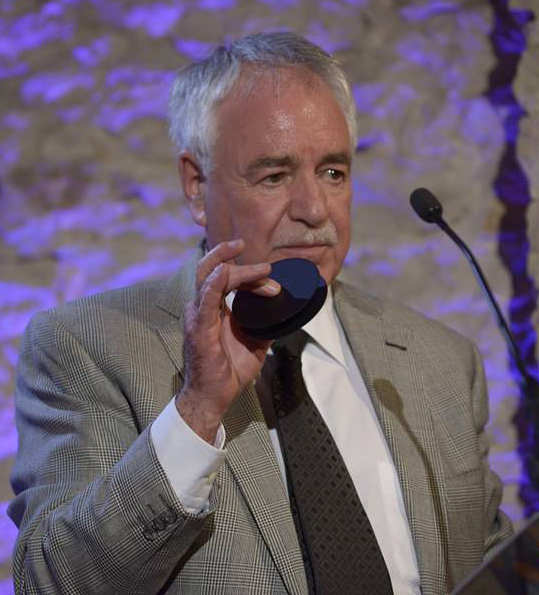 brought along some interesting examples from the wide range cameras he has used at different stages of his career. He explained his belief that much of his skill in story-telling had been engrained in his very early days as a cameraman from the discipline required to shoot film on very tiny mags.
Not only has Paul had a remarkable career behind camera, but somehow has found time as well to be a lifeboatman and is also a trained firefighter.
---
GTC Awards for Excellence
Unlike many other awards, there are no categories in the GTC awards so every nomination is assessed for its merit independently and not just on the visual aesthetics. This allows us to consider the approach and method of filming a particularly difficult subject, for example. It also means that nominations can be drawn from all fields, multi and single camera, broadcast and online, documentary to TV drama and everything else in between.
Grand Tours of the Scottish Islands, BBC1
Director of Photography – Richard Cook
"Magnificent landscape cinematography of the Scottish islands, in particular beautiful drone shots."

GTC member Richard Cook was delighted to receive his second GTC Award for Excellence – and apologised for the eyepatch due to a short-term health issue!

Peggy's Funeral, EastEnders, BBC1
Marc Humphreys
"We don't often see a serial drama in the nominations, but this was such a special episode in the programme's history and done with such particular care, we thought it should be recognised."

Accepting the award, Marc said: "I'm humbled to be receiving this award. I'd like to give a special mention for the camera crew who work on EastEnders all the time. What everyone achieves in such a short amount of time is quite remarkable."

The Rack Pack, BBC iPlayer
Director of Photography: Zac Nicholson, BSC

The Crucible was the setting for the BBC's The Rack Pack, which recreated a 1982 match between rivals Alex Higgins and Steve Davis.

"The visual style captured the mood of the 70s and 80s snooker scene and the spirit of characters that emerged in the transformational period in the history of British snooker. One long steadicam shot lasting 2 minutes 23 seconds was a particularly effective and creative use of the camera work to depict the impressive Alex Higgins 69 break."

Victoria, ITV
Director of Photography: John Lee

"The cinematography told the story in a contributory way without overwhelming the dialogue that was so beautiful. The series was outstanding throughout by the camera department. Camera moves were restrained and controlled; the framing faultless; and the cinematography was up to the highest cinematic levels."

Receiving the award, John said: "Thank you very much, this award is amazing. It means a lot that it's come from other cameramen."

Grease: Live, ITV2
Steadicam: Tore Livia

"The opening shot, lasting four and three quarter minutes at the beginning of the live Paramount Television (later transmitted on ITV2) was impeccably choreographed and crafted by the operator Tore Livia. It shows an incredibly high level of technical and creative ability."

Tore was unable to attend in person but recorded this message: "I'd like to thank the GTC for recognising the hard work that went into the opening shot, and to the directors for having the confidence in me to do so. Thank you again for the great honour of being able to receive this award."

Steve Backshall's Extreme Mountain Challenge
Director of Photography: Keith Partridge

"Keith filmed and recorded the audio for the series single-handed whilst dealing with rock falls and storms on crumbling vertical walls of the Tepuis on the one hand and managing to cover the exploration of an unstable cave system, using not just his 'main' camera, but also a gimbal for very smooth tracking shots and helmet-mounted minicams. This all shows extreme versatility and professionism whilst producing both dramatic and beautiful coverage."

Keith: "When I look back on it, it was the strength of the team that carried the project. In a life-threatening experience on a cliff that was falling apart, it did push everyone to the brink, which of course brings people together – but we're extremely lucky to be backed by family and friends back at home. It's very humbling to be able to receive an award from esteemed colleagues in the industry."

Eurovision Final 2016
Directors and camera team of SVT (Sweden)

The Swedish SVT camera and directing team won a well-deserved award for the iconic Eurovision Song Contest. Collecting the aware were camera operator Cecilia Andersson, and directors Daniel Jelinek and Robin Hofwander, who had travelled from Stockholm for the presentation.

Cecilia: "TV is all about good teamwork – we're all so happy and proud for this."

Daniel: "We sat together with the camera crew looking at different entries, fixing problems and so on, it's a pretty fantastic journey. We're proud to be nominated with our camera crew."

Comedy Playhouse: Hospital People
Director of Photography: Zac Nicholson BSC

Zac Nicholson BSC picked up a second GTC Award for Excellence for the evening for his DoP work on Hospital People.

Zac: "I just want to reiterate how much of an honour and a privilege it is to receive this award among my peers. I depend on my crew completely and utterly. Thank you again."

Planet Earth II, BBC1
Marc MacEwen and John Brown

Planet Earth II is one of the gold standards in television, produced by the BBC Natural History Unit. Cameramen Mark MacEwen and John Brown collected the award on behalf of the whole camera crew: "Thank you so much, we're very much accepting this on behalf of 22 camera operators. We both have young families here tonight, it goes for everyone here tonight that these awards are as much for them as they are for us."

Why this Road?
Director of Photography: Gerry Vasbenter

The short film Why this road? features GTC Welfare Officer Chris Yacoubian. DoP Gerry Vasbenter was unable to be there but Paul Pirie of the CTBF collected the award on his behalf.

"The whole film has a beautiful pace with stunning images, shot but never overusing using a variety of techniques. "

Gerry sent this message: "It's a great privilege to have been chosen by my peers to collect this award. I'd like to mention the collaboration needed, from the producers getting so involved, and of course Chris Yacoubian sharing deeply his personal experience. Thank you!"

Flowers, Channel 4
Director of Photography: Jamie Cairney

"The camerawork accompanies a very original story that is dark and heavy but a fine example of how visuals and the story can be integrated as one to make a powerful piece of work."

Jamie: "Thank you very much, I'm humbled that I've been awarded this by my peers. I've got to say thank you very much to my crew on this shoot – I owe this really all to them. In particular the director, Will, who both wrote the show and stars in it, and is incredibly supportive. I'd also like to thank my partner Elana, who is constantly there through thick and thin. Thank you, everyone!"

China: Between Clouds and Dreams, Channel 4
Phil Agland

Phil Agland spent three years making this wonderful series of five films as director, producer and cinematographer. To call him a self-shooter would be a disservice in this modern world of jack-of-all-trades .

Phil: "Thank you to the Guild. It's a great honour to be chosen by one's peers. It's a challenging series, and I'd like to dedicate this award to all those who helped, in particular the person behind the series who has been imprisoned for the last 3 years without charge. It does give one pause for thought about the situation in China. The series was shot for Central Television in China, who so far have opted not to broadcast it. I have to thank my family as well after being away almost two years."
---
The Mike Baldock Award
The Mike Baldock award is for valuable service to the GTC. Since the inception of the Bill Vinten GTC University Awards, a major incentive for students entering the competition has been the paid work experience offered to the winner and runners-up.
One production which has consistently opened its doors is BBC's Doctors. Several recipients have said they've learned more in a week about assisting than they learnt in their whole time at university and were surprised by the pace of shooting. As a direct result of this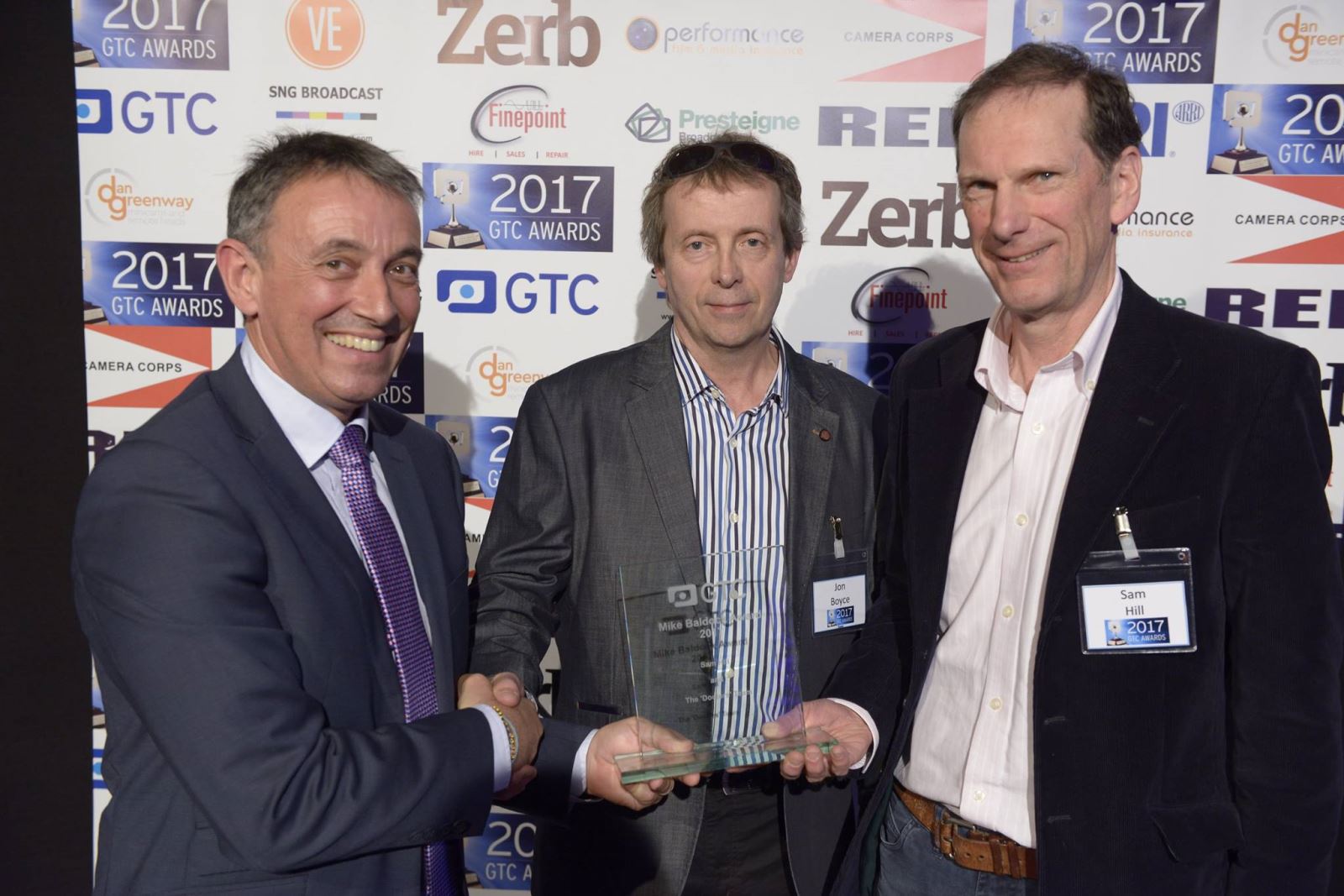 work experience, one graduate was offered a full-time job at the Shepperton Studios base of camera company, Transmission TX.
Collecting the Mike Baldock award were series producer Sam Hill and Jon Boyce from Transmission TX.
Sam: "This is a fantastic honour to receive on behalf of everybody. Training and breaking young crews into drama is so important to Doctors, not just for the future of our show, but for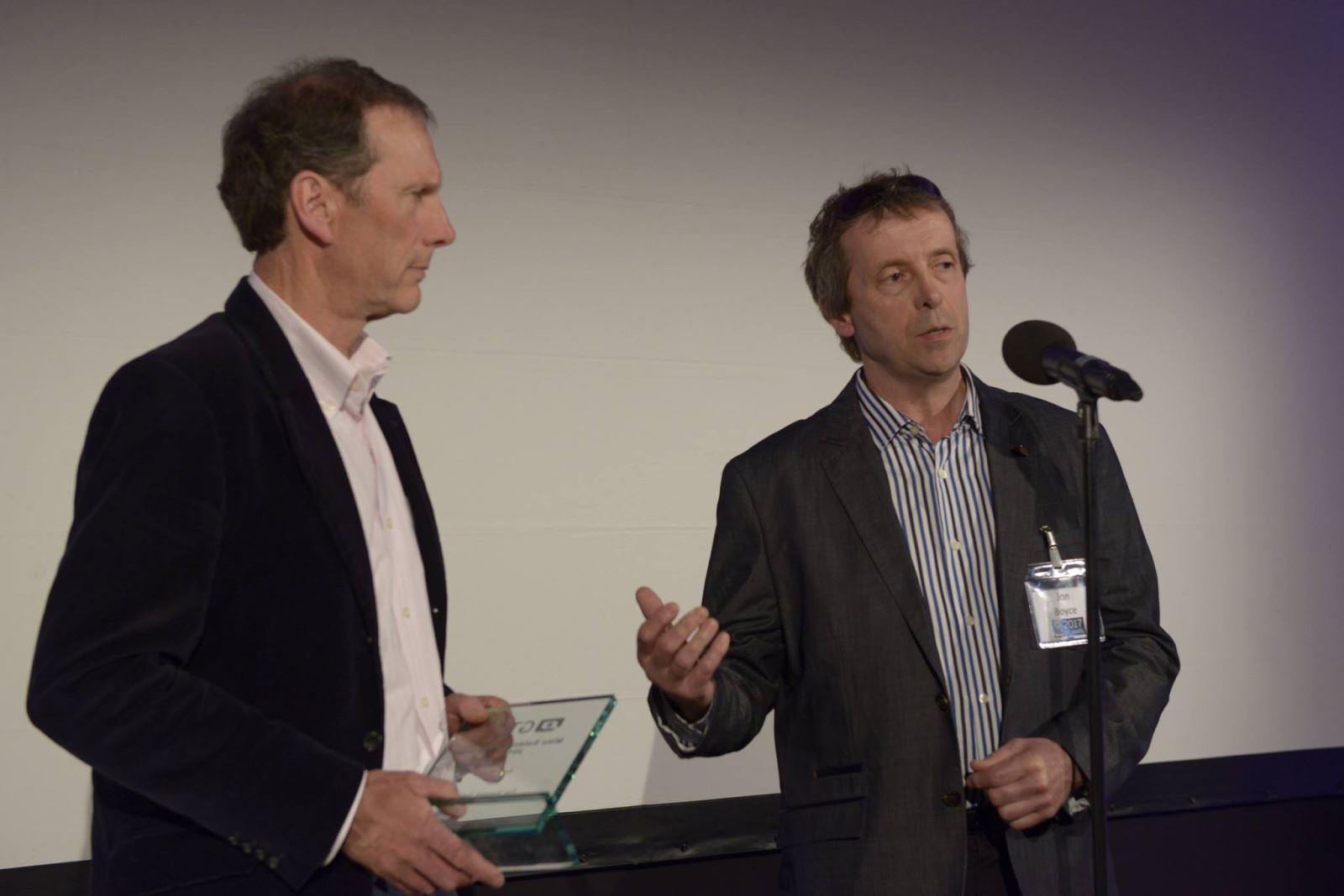 the industry as a whole."
Jon: "If you just take a moment to think about when you were first given a break, when you were right at the beginning of your career, when someone had the faith in you to take a chance... we give it to a few people every year, to give them the chance to share their passion. There's so many people in Transmission TX, this award really goes out to them, and the BBC for giving us a chance to give people a chance."
---
GTC Seal of Approval
The Clear_Com FreeSpeak II wireless talkback system is a revolution in talkback and a fundamental step change in how camera operators in a multi-camera environment interact with the rest of the production team.
The key features are four discrete channels on one belt pack, meaning camera operators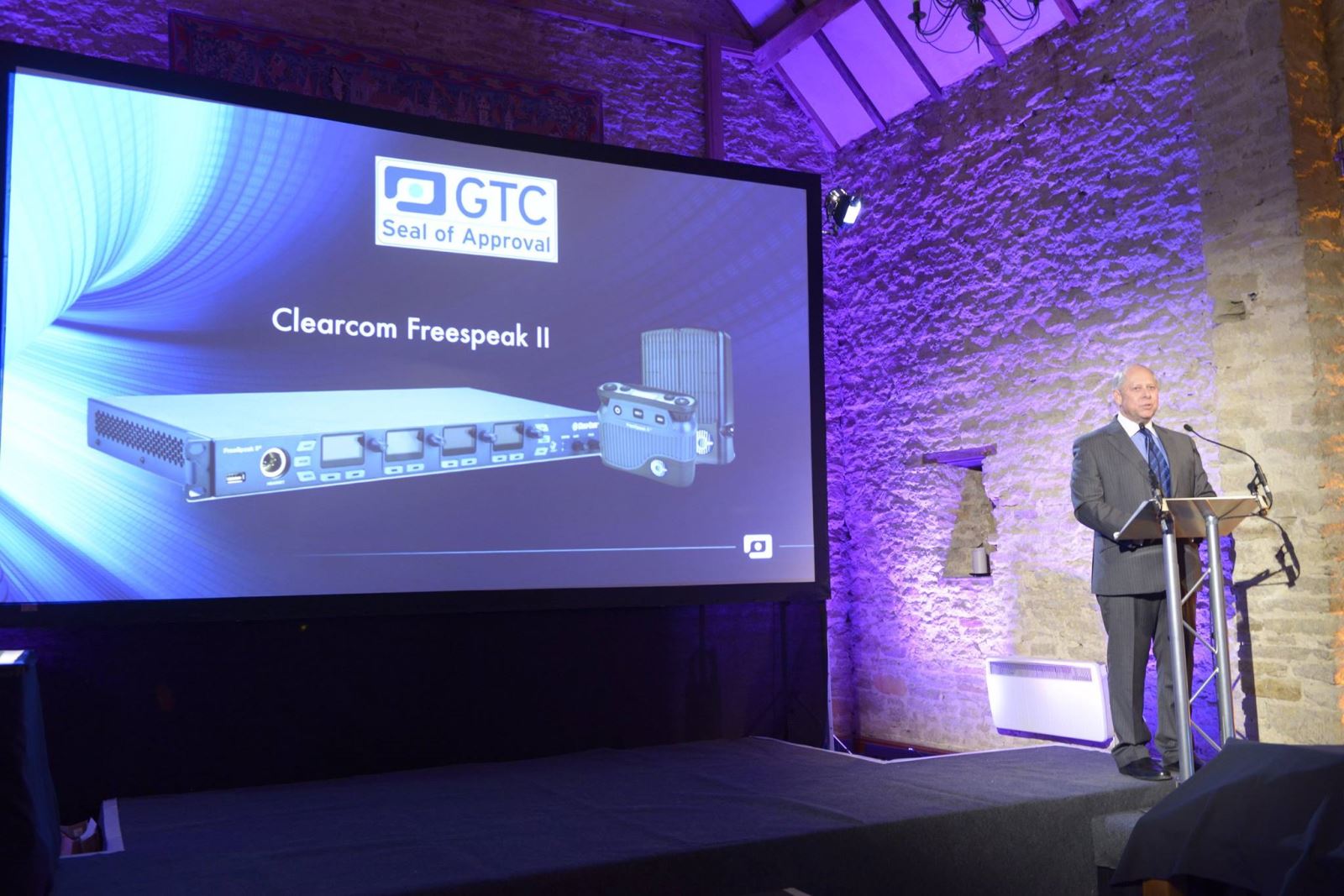 can simultaneously have access to four talkback paths with keys and independent listen levels for each. For example, possible paths are listen to director talkback, listen/talk to engineering, listen to a show caller(useful for rehearsals on live events), programme sound and private talk to anyone else on production such as a Steadicam or jib operator to their assistant.
It also has a superb voice clarity so that all communications are clear and fully duplex. Antenna hopping means the belt packs can be used across wide areas and will always find the receiver accepting the strongest signal. Excellent for RF camera operators that want to roam across a large space such as Steadicam arenas a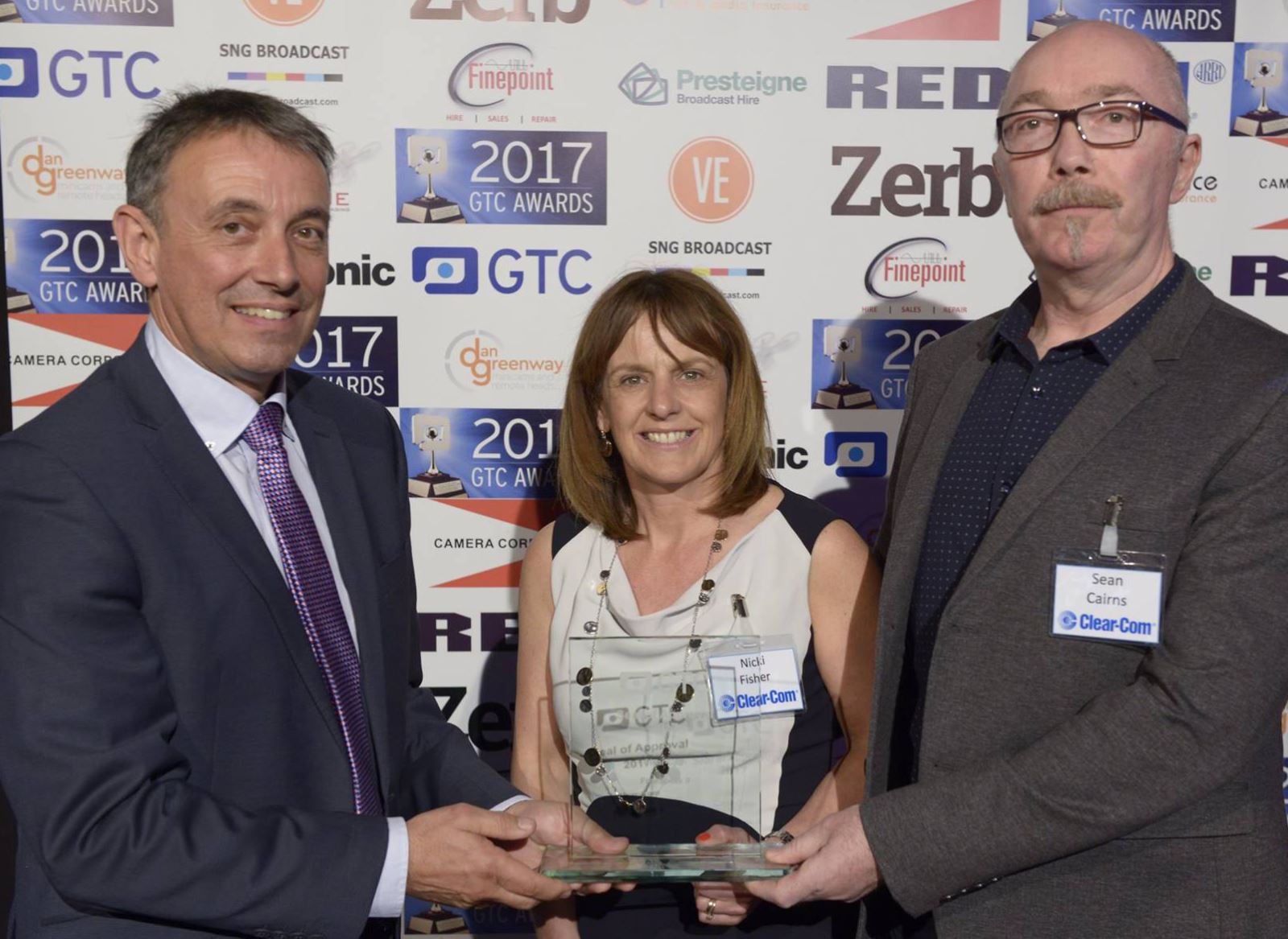 nd large public space.
It is licence-free in the 1.9Ghz or 2.4Ghz spectrums so you no longer have to pay Ofcom for radio licences. Furthermore, base station can automatically interface with other common talkback systems.
The GTC Seal of Approval was collected by Nicki Fisher and from Clear-Com.
---
Fellowships of the GTC
There was a final surprise of the evening - for Zerb Managing Director and GTC Website Administrator Alison Chapman, who became the first woman to be made a Fellow of the GTC for her long-term contribution to both Zerb and the website, and for Roger Richards, who for many years has not only expertly looked after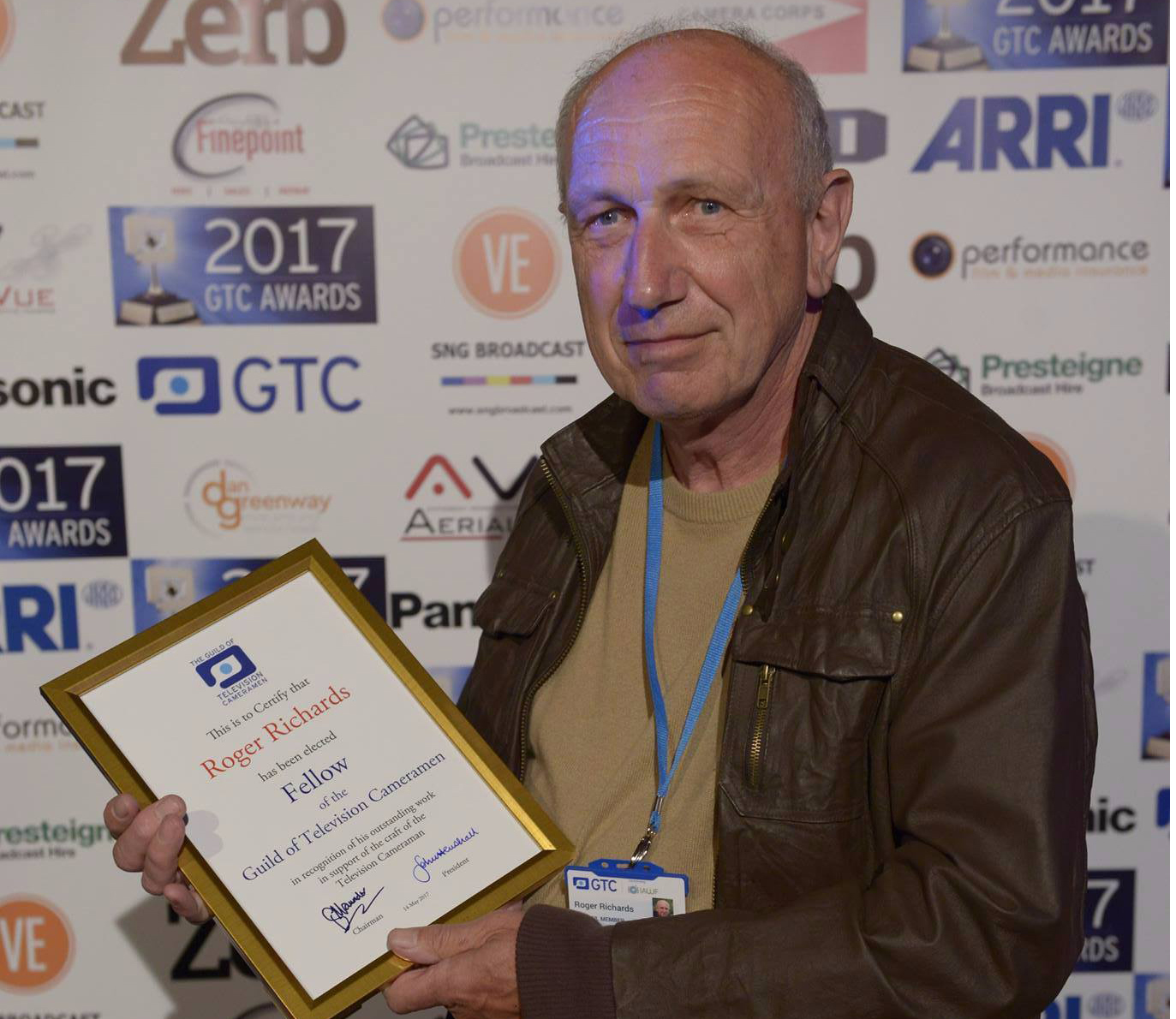 all aspects of GTC membership and administration, but also edited the GTC newsletter, GTC In Focus. Despite both Alison and Roger being heavily involved with almost all aspects of GTC business, the GTC Council and Awards organisers had somehow managed to keep the decision to award the Fellowships completely secret from the two delighted recipients!
---
Prize raffle
The funds from the day's Prize Raffle were split between the industry charity the Cinema and Television Benevolent Fund (CTBF) and eyesight research charity Fight for Sight.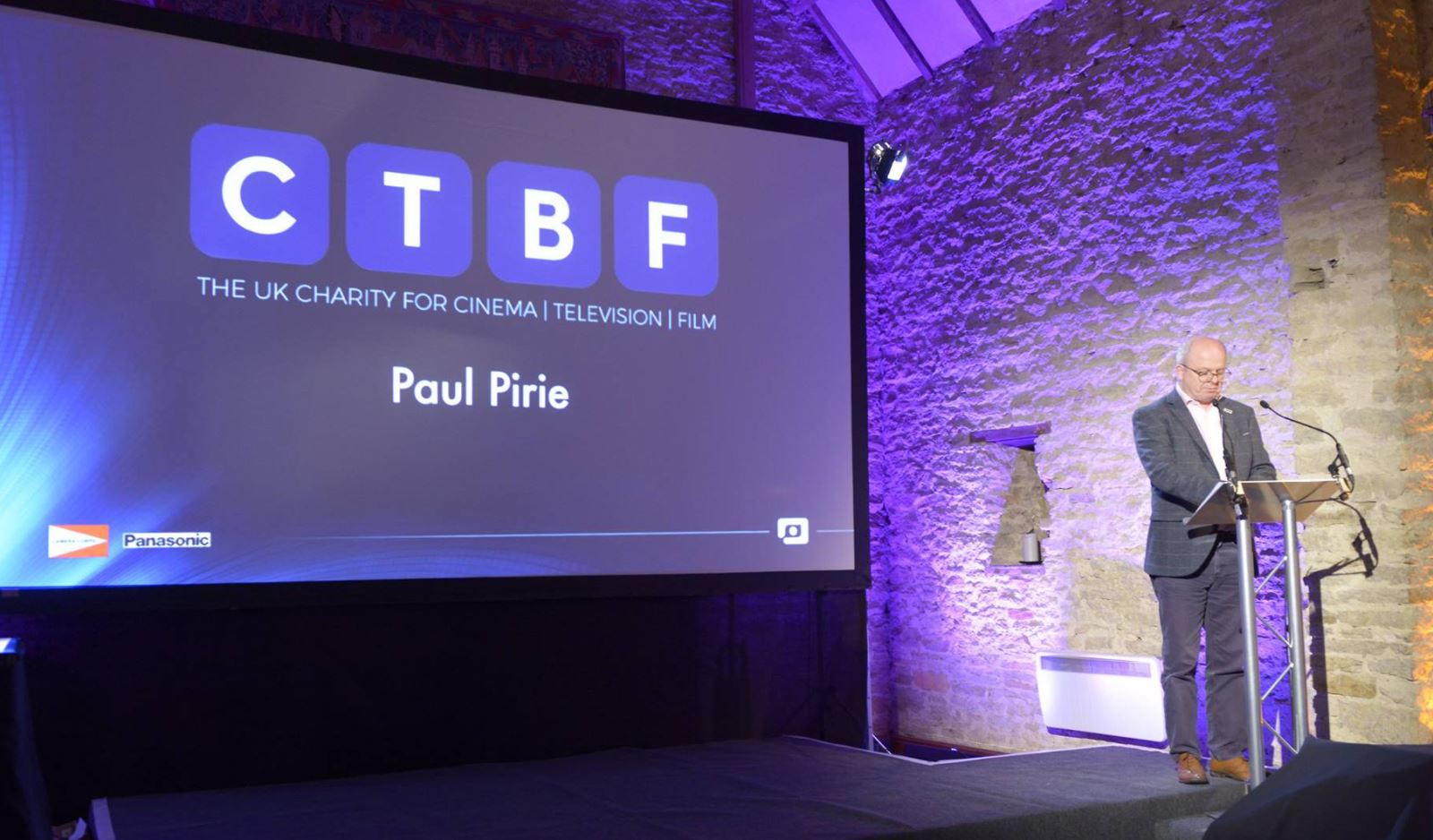 Fight for Sight sent a message of thanks and Paul Pirie of CTBF attended and explained a little about the work of the charity and in particular its new initiative to provide more support for people within the industry suffering from mental health issues.
Prizes had been generously donated by GTC sponsors and supporters:
---
GTC Awards sponsors
This great Day Out and Awards event would not have been possible without the generous support of our main sponsors: Camera Corps Ltd and Panasonic UK. Also kindly supporting the awards were Zerb, Zest4.tv, ARRI, Dave Walter Lighting, Lighting Director Iain Davidson, Chris Harris and Portaprompt. Streaming services were provided by SNG Broadcast, and further sponsorship was provided by Dan Greenway Ltd, Performance Film and Media, Presteigne Broadcast Hire, Video Europe and Aerialvue.co.uk, Top-Teks.
---
GTC Awards judging
The GTC Awards are each year judged by a different panel of invited GTC members and colleagues. With the shortlist consisting of nominations made by GTC members, the GTC Awards are truly recognised as an accolade from peers from within the camera department. This particularly valued aspect of the GTC Awards was specifically mentioned by many of this year's recipients.
This year's judges were (l to r): John Tarby, Mari Yamamura, John Waters (IAWF), Graham Maunder, Keith Massey, Adam Docker, Hazel Palmer, Keith Massey, Alan Duxbury.